In this article, we will look at XCP-ng vs. Proxmox. XCP-ng and Proxmox are two hypervisors that allow you to run virtual machines (VMs) on them. These virtual machines are separated from the physical hardware (RAM, CPU, and other physical resources) through a virtualization layer. By sharing their resources virtually, XCP-ng and Proxmox allow the underlying hardware of a host machine to run one or more virtual machines as guests independently.
There are many benefits to a hypervisor, including separating the operating system (OS) from the application, virtualizing a crucial management layer, and controlling the environment of a data center and enterprise. This article will cover a side-by-side comparison of XCP-ng vs. Proxmox and compare some of the differences between performance, pricing, and functionality.
XCP-ng vs. Proxmox: Side-By-Side Comparison
We will start comparing XCP-ng vs. Proxmox below by looking at a brief overview of each.
What is XCP-ng?
XCP-ng is an enterprise virtualization platform that was initially based on XenServer. XCP-ng is based on CentOS, unlike Proxmox which is based on Debian GNU/Linux. XCP-ng is also a powerful XAPI (Xen API Project), which works out of the box to deliver turnkey in-server virtualization.
XCP-ng is compatible with 64-bit x86 servers, supports up to 5TB of RAM, 16 physical NICs, and up to 288 logical processors per host. XCP-ng is built on top of components of the Linux kernel (GPLv2). Since it's open source, its dev process, documentation, repositories, and components are easily accessible and publicly available.

What is Proxmox?
Proxmox Virtual Environment (VE) is a type-1 hypervisor that runs directly on the host machine's hardware and is used to create virtual machines and LXC containers. It is a Debian-based Linux distribution that is free, publicly accessible, and allows for enterprise-class virtualization.
Like XCP-ng, Proxmox is an open-source server virtualization management solution that enables users to utilize KVM virtualization. Proxmox offers an easy-to-use web interface for containers, VMs (virtual machines), and associated resources on various nodes and clusters.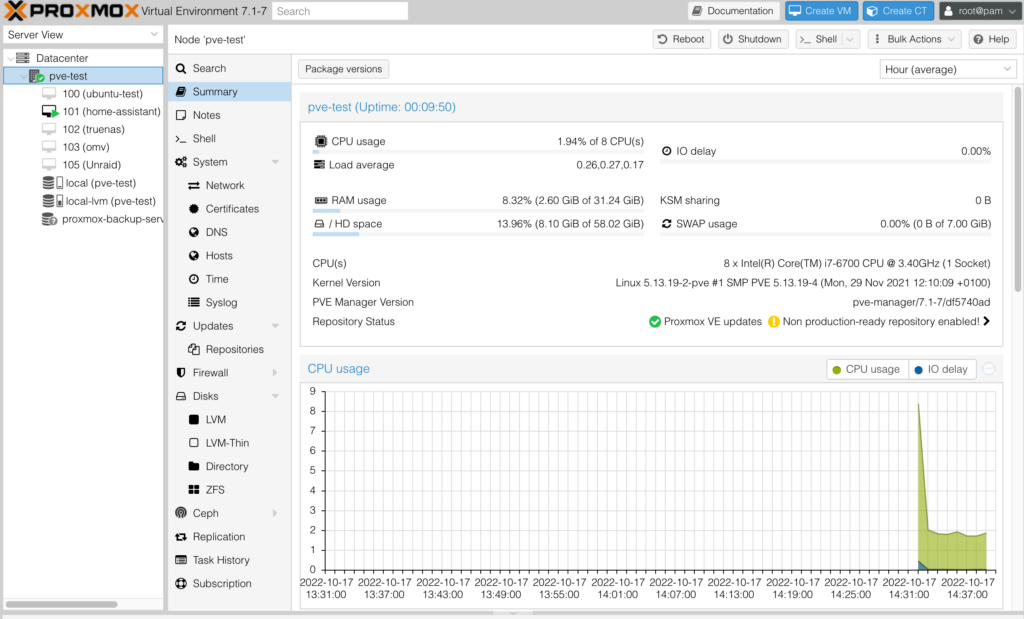 XCP-ng vs. Proxmox: Features
Features of XCP-ng
Below is a list of some of the best features of XCP-ng:
Multi-Server Management
The multi-server management feature of XCP-ng enables you to manage, monitor, and administer all of your data and infrastructure using a single agentless web interface.
Live VM Migration
Live VM migration is another perk of XCP-ng that allows you to migrate your virtual machines (VMs) live with little downtime.
Live Patching
The live patching ability of XCP-ng allows you to patch the XCP-hypervisor without suspending or shutting down VMs. You also aren't forced to migrate your VMs from the host.
Storage Migration
The storage migration feature of XCP-ng enables you to move your virtual disk within and across the resource pools. It also helps you adapt, maintain, and administer your storage and infrastructure without downtime.
Accelerated Performance
XCP-ng works with the Xen Orchestra Web UI and XCP-ng Center (Windows-based), allowing you to manage, monitor, and administer all your data and infrastructure from a single interface.
Features of Proxmox
Below is a list of some of the best features of Proxmox:
Live VM Migration
Through Proxmox's live migration feature, users are able to move running virtual machines from one node on a cluster to another without experiencing any perceivable downtime.
Multiple Authentication Sources
Proxmox VE has an integrated authentication server with numerous authentication sources including the OpenID Connect authentication protocol, LDAP, Microsoft Active Directory, and Linux PAM.
Multiple Storage Options
The storage options of the Proxmox virtual environment are highly flexible. The web interface of Proxmox allows users to add multiple storage types, such as CephFS, GlusterFS, SMB/CIFS, iSCSI, and NFS shares.
IT Infrastructure Protection & Scheduled Backups
With Proxmox VE, you can protect your IT infrastructure by using a built-in firewall. Proxmox allows for complex firewall configurations through the CLI or GUI. Proxmox also gives users the ability to set up scheduled backups for VMs, nodes, and guests which run automatically based on the schedule specified.
Granular Access & Collaboration with Ceph
Proxmox VE provides full integration with Ceph, giving users access to and control over Ceph storage directly from their cluster nodes. Users are able to define granular access to all objects using Proxmox VE's role-based permission management system.
XCP-ng vs. Proxmox: Pricing Plans
XCP-ng Pricing
The pricing plans of XCP-ng don't have feature restrictions or license fees. You only pay for support.
Plan
Cost and Available Features
Standard
$600 per host & per year
– SSH pro support
– Six support tickets per year
– One business day response time
Enterprise
$1,200 per host & per year
– SSH pro support
– Upgrade assistance
– Linux drivers integration
– XCP-ng devs direct access
– Initial setup assistance
– 1-hour response time
– Unlimited support tickets
Proxmox Pricing
The free version of Proxmox supports several features, but you must have a paid subscription to access technical support and enterprise repositories.
| Plan | Cost and Available Features |
| --- | --- |
| Community | Starts from ~$95 (€95) per year & CPU socket |
| Basic | Starts from ~$295 (€295) per year & CPU socket. Three support tickets per year. |
| Standard | Starts from ~$445 (€445) per year & CPU socket. Ten support tickets yearly. |
| Premium | Starts from ~$890 (€890) per year & CPU socket. Unlimited support tickets. |
XCP-ng vs. Proxmox: Advantages
Advantages of XCP-ng
Enterprise Virtualization Platform (Proxmox is not an enterprise virtualization platform)
Stability and uptime
Nested virtualization
Xen Orchestra (must be installed)
Improved network management through GUI
Cross-cluster resource migration for both VDIs and VMs
Removable nodes
Clustering with up to 64 nodes
Scheduled and automatic snapshots
Advantages of Proxmox
Web GUI is installed by default (XCP-ng must install Xen Orchestra or XCP-ng Center for web GUI)
2-way data replication for local storage
LXC container support
Unlimited number of snapshots for virtual machines (VMs)
Simple management process
Standard Linux distribution
ZFS support
Conclusion: XCP-ng vs. Proxmox
This article looked at XCP-ng vs. Proxmox to determine which hypervisor is best. From a pure hypervisor perspective, I've always preferred Proxmox due to its ease of use. However, I've been extremely happy with XCP-ng lately and it's important to remember that XCP-ng is an enterprise virtualization platform, while Proxmox isn't.
I still run Proxmox in my production environment, but I'm considering switching to XCP-ng, which is a true testament to the platform and proves that Proxmox isn't necessarily better than it. Both systems support various features and serve different purposes in server virtualization, but overall, you'll most likely be happy with either.
Thanks for checking out the article on XCP-ng vs. Proxmox. If you have any questions on XCP-ng vs. Proxmox, please leave them in the comments!