This article will focus on the comparison between the Synology DS720+ vs. QNAP TS-253D.
Before we take a look at the devices, both, the Synology DS720+ and the QNAP TS-253D are two-bay NAS (Network Attached Storage) devices that will allow you to store different types of files on them. From a pure usability standpoint, they offer the same functionality, meaning that they're NAS devices at their core.
With that said, there are many hardware and software differences and that's what we're going to take a look at in this article.
The links below are Amazon affiliate links which means that I earn a percentage of each sale at no cost to you. Thank you for your support.
1. Synology DS720+ vs. QNAP TS-253D – Hardware
First, we're going to take a look at the difference between the hardware on the DS720+ and TS-253D.
1.1 Synology DS720+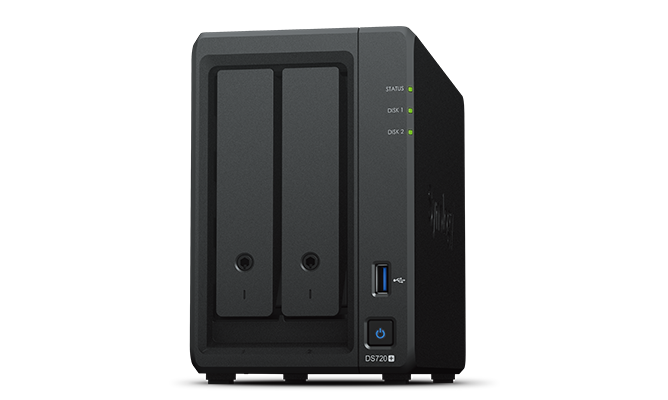 The Synology DS720+ costs $399 and has an Intel Celeron J4125 processor with 2GB of memory that can be expanded up to 8GB. It comes with two 1Gb RJ-45 Ethernet Ports and has two M.2 SSD slots that can be used as cache. This unit does not come with a PCI-E expansion slot, meaning that you cannot upgrade the networking capabilities.
Click here to purchase the Synology DS720+
1.2 QNAP TS-253D
THE QNAP TS-253D costs $349 and comes with the same Intel Celeron J4125 processor that the Synology DS720+ has, but comes with 4GB of memory instead of the 2GB that come standard on the DS720+.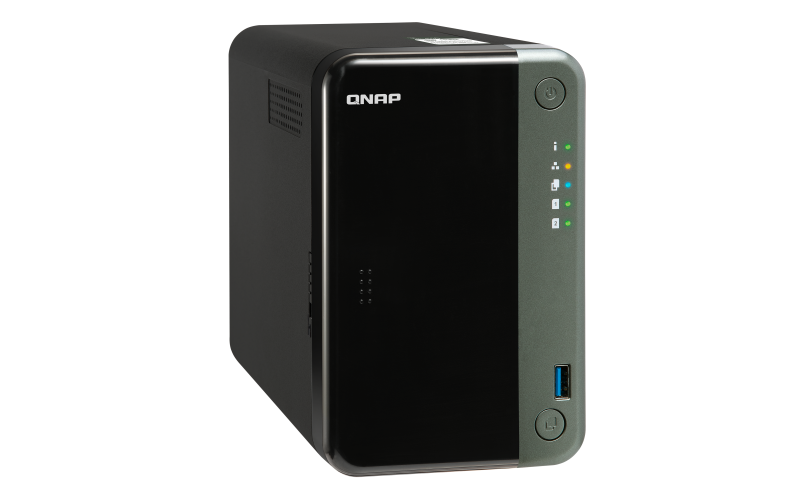 Another difference is that it comes with two, 2.5Gb RJ-45 Ethernet Ports, but only has one PCI-E expansion slot for SSD cache. However, that PCI-E expansion slot can be used for a 5Gb or 10Gb network interface card (NIC), which is something that's not possible on the Synology DS720+.
Click here to purchase the QNAP TS-253D
VERDICT: From a pure hardware perspective, the QNAP TS-253D is superior. It has 2GB of additional memory, 2.5Gb NIC's instead of 1Gb, and can even have a 5Gb or 10Gb NIC through the PCI-E expansion slot if desired.
The DS720+ does have the benefit of two M.2 expansion slots for SSD cache, but on a device that only has two drive-bays, there's really no point in having that expandability. You can technically buy expansion units for these devices, but the overwhelming majority of people won't, so the extra M.2 slot isn't particularly beneficial for most.
2. DSM 7 vs. QTS 5.0 – Synology DS720+ vs. QNAP TS-253D
The Synology DS720+ and QNAP TS-253D run entirely different operating systems. The DS720+ runs Synology's DiskStation Manager 7 (DSM 7) and the TS-253D runs QNAP'S QTS 5.0. Both of these operating systems are easy to use through a management interface that can be accessed through a web browser.
Overall, Synology's DSM 7 is viewed as more "polished" than QNAP's QTS 5.0 and has a reputation for being the superior OS.
QNAP devices have also run into a few software vulnerabilities that Synology devices haven't (though they have shared a few, more broad vulnerabilities). However, if you are keeping this device on a local network only (not exposing it to the world through port forwarding), the security risks are generally minimal.
Rather than simply stating that I feel that Synology DSM 7 is superior to QNAP's QTS 5.0 (which I do), I highly suggest that you take some time and try them both out. This is one of the benefits that both Synology and QNAP offer, and you can get a good feel for the operating system before choosing one.
3. Which NAS Should you Buy? – Synology DS720+ vs. QNAP TS-253D
While both devices are great, to me, the clear winner is Synology's DS720+. From a pure hardware perspective, the QNAP TS-253D is superior in every way.
However, outside of the additional 2GB of memory (which can be upgraded on the DS720+), the enhanced networking capabilities are a moot point for most, as 2.5Gb NIC's "simply providing more bandwidth" than 1Gb NIC's is not the complete picture.
2.5Gb NIC's are superior, but you must have the networking infrastructure to support 2.5Gb, meaning that your router or switch must have 2.5Gb NIC's as well. If they don't (most consumer routers/switches come with 1Gb NIC's), you aren't going to see any benefit and will receive the same network transfer speeds as the DS720+.
It is also my opinion that Synology's DSM 7 is far superior to QNAP's QTS 5.0, and while they both will function as NAS devices well, you'll get more out of the DS720+ with easier to use, well supported applications.
What we're left with is a DS720+ that costs $50 more than the TS-253D, but has superior software and extremely similar hardware.
Online resources for the Synology NAS are also far better, which means you'll have an easier time implementing and troubleshooting some of the software packages that come on the DS720+.
The one exception is if you are someone who wants to utilize 2.5Gb, 5Gb, or 10Gb networking. The DS720+ does not support this, so in this specific case, the QNAP TS-253D is superior. Just keep in mind that you must have a switch capable of supporting the 2.5Gb, 5Gb, or 10Gb connection.
So in summary when looking at the Synology DS720+ vs. QNAP TS-253D, the QNAP TS-253D does have better hardware, but it's not good enough to beat out Synology's superior software and user-community.
Please check out our tutorials to make sure that you get your new NAS up and running correctly!