Best Hard Drives (HDD) to Buy for Synology NAS
Today we are going to take answer the question "What is the Best Synology NAS Hard Drive?". If you haven't purchased a Synology NAS yet, please check out our buying guide!
The links below are Amazon affiliate links which means that I earn a percentage of each sale at no cost to you. Thank you for your support.
NAS Hard Drives vs. Desktop Hard Drives
There are two main reasons why you'll want to pick up NAS hard drives as opposed to desktop hard drives. NAS drives are designed for 24/7 continuous operation (whereas desktop drives aren't). They also have thermal controls and anti-vibration technologies to avoid creating too much vibration, which is a problem for NAS devices since you have multiple hard drives spinning directly next to each other. For these reasons, desktop drives are inferior and should not be used.
Hard Drive Failure's – What is the Best Synology NAS Hard Drive
Before we can take a look at the different types of hard drives, it's important to understand that all hard drives fail. That's the unfortunate reality and while we can try and select hard drives based on failure statistics (some brands fail less frequently than others), the warranty process for a hard drive is generally something designed to protect you from these types of issues.
Without getting into specifics, it's important to understand that hard drives have a failure rate similar to a "U", in the sense that they fail extremely early in their life or towards the end of their expected life, and generally function as expected in between. For this reason, things like a warranty are designed to protect you from early issues, with monitoring software (like S.M.A.R.T tests) are designed to inform you when a hard drive is nearing the end of its lifespan.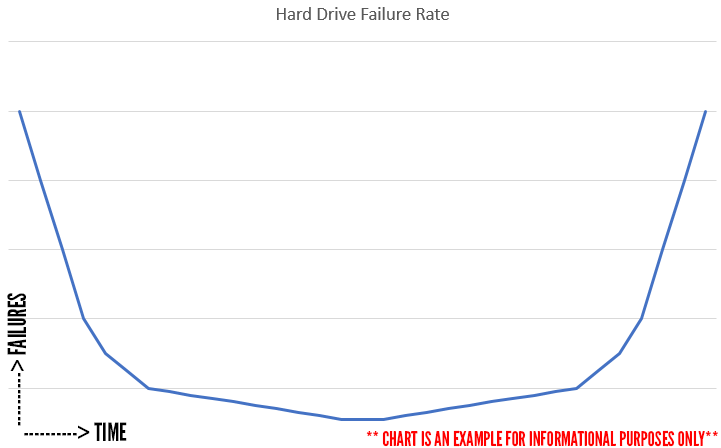 IronWolf Health (Synology Feature)
Synology has some form of a partnership with Seagate where IronWolf drives are recognized by DSM and health information is built directly into the operating system. Outside of health statistics, there aren't any other benefits, but it is something to be aware of.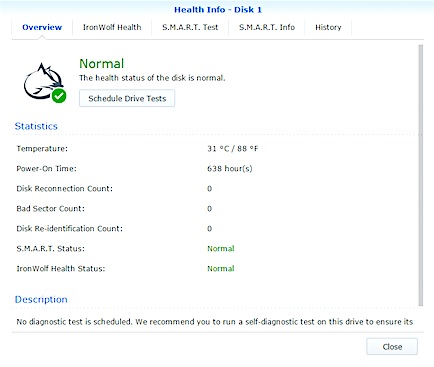 Hard Drive Recommendations – Best Synology NAS Hard Drives (HDD)
I've always used Seagate IronWolf NAS drives and I've had great reliability with them. The IronWolf Pro drives below are slightly superior (better workload rates and warranty, plus Seagate Rescue Data Recovery), so you'll have to determine if you can justify the price difference.
Seagate IronWolf Hard Drive – Best Synology NAS HDD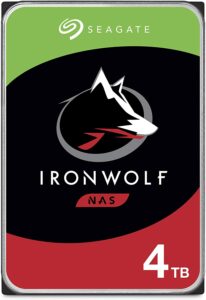 Warranty: 3-year
Seagate IronWolf Pro Hard Drive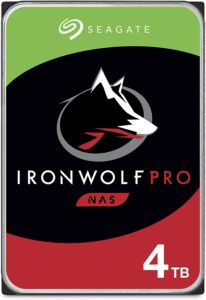 Warranty: 5-year
Western Digital Red Hard Drive (WD Red Plus/WD Red Pro) – Best Synology NAS HDD
Western Digital drives are very similar to Seagate's IronWolf but do not have any of the additional IronWolf Health features built into DSM. My personal preference has always been Seagate, but the Western Digital Red drives are great NAS drives as well. It's important to know that Western Digital was recently caught selling SMR drives that weren't advertised as SMR drives and quickly changed their marketing to reflect that.
At this point, Western Digital Red drives are SMR drives, where Red Plus drives are CMR drives. Western Digital Red Pro drives are unchanged. It's difficult to explain if SMR drives will impact your workflow (since there are tons of factors), so I generally advise sticking to the CMR drives (Red Plus/Red Pro).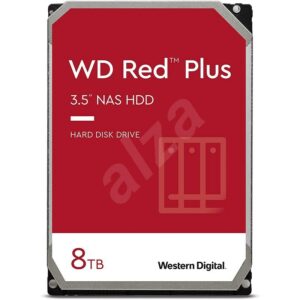 Western Digital Red Plus
Warranty: 3-year
Western Digital Red Pro
Warranty: 5-year