In this article, we will look at what is the best TrueNAS alternative.
TrueNAS is an operating system developed on the OpenZFS file system. What makes TrueNAS different is the fact that there are actually two different versions: TrueNAS Core and TrueNAS Scale. TrueNAS Core has been around since 2005 (formerly known as FreeNAS) and is built on FreeBSD. TrueNAS Scale was released in 2022 and is built on Debian-Linux. They're both similar and different at the same time (if that makes sense), so I urge you to read about their differences if you decide to use TrueNAS.
Regardless of which version you use (TrueNAS Core or Scale), TrueNAS is free and open-source.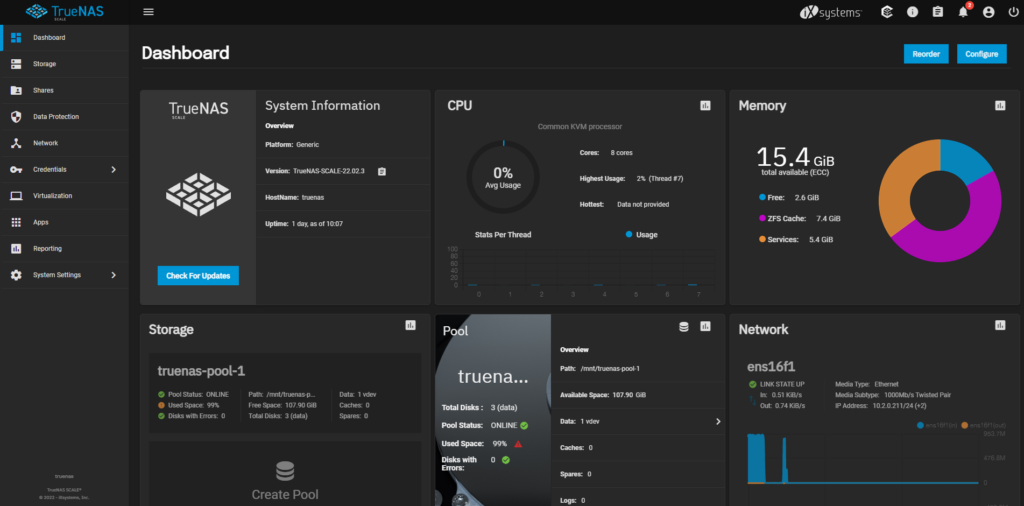 While TrueNAS is an exceptional NAS operating system, there are a few different alternatives that you can use if you're interested in trying something different.
What is the Best TrueNAS Alternative?
We will look at the best TrueNAS alternatives below, but please remember that there isn't an individual alternative that is best. Each option will be better or worse depending on the requirements!
Unraid
Unraid is a proprietary-based network-attached storage operating system. Unraid allows you to create and manage shared folders, run different applications, and even create and run Docker containers if you'd like. Unraid gives you the ability to create virtual machines as well, though it's not a traditional hypervisor.
The biggest benefit of Unraid is that it's incredibly user-friendly. From my experience, most NAS operating systems are fairly confusing when you first set them up, however, Unraid makes sense, meaning that you'll get accustomed to it quickly. Please keep in mind that Unraid is not free, so you'll have to purchase a license based on the number of hard drives you intend on using.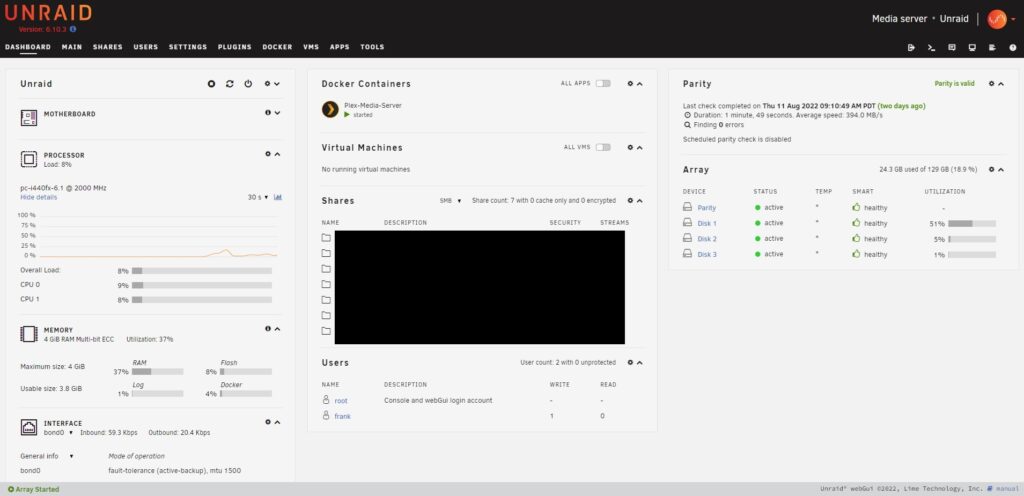 If you're interested in trying Unraid, please check out our article on Unraid vs. TrueNAS!
OpenMediaVault
OpenMediaVault is an open-source network-attached storage (NAS) operating system based on Debian Linux. OpenMediaVault has all of the features you'd expect from a NAS operating system, but my favorite feature of OpenMediaVault is how user-friendly it is and its compatibility with different types of hardware. Due to how easy it is to use OpenMediaVault, it's a great NAS operating system to learn on.
To expand on OpenMediaVault's compatibility, it can be installed on bare metal, as a virtual machine, or even on a Raspberry Pi (which means that you can technically turn a Raspberry Pi into a NAS). It's also extremely resource friendly. Overall, that hits the majority of systems out there and makes OpenMediaVault a consideration for most people as their hardware will almost certainly work with the OS.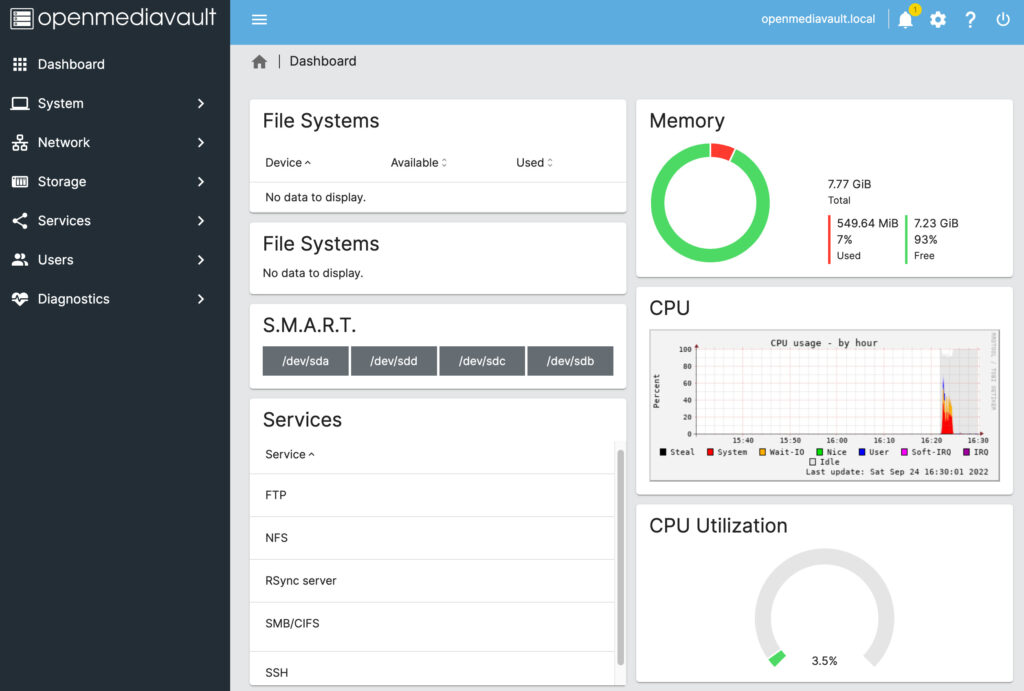 Synology NAS Devices
Unlike TrueNAS, Unraid, or OpenMediaVault, a Synology NAS is a device that runs the Synology DSM operating system. If you'd like to use a Synology NAS, your options are extremely limited as you can only use DSM (Synology's operating system) if you're using Synology hardware. Synology offers a bunch of different options (check out our Synology NAS buying guide to learn more), but there's a fairly large downside with Synology hardware – it's old.
In most Synology devices, you'll be running components that are 3-5+ years old (CPU for example). Therefore, you're paying a premium from a pure hardware perspective as Synology devices aren't cheap. With that said, NAS devices don't consume a ton of resources, so I wouldn't say that any Synology devices are underpowered. It's just that from a purely objective standpoint, the hardware is old.
While that might be viewed as a downside, please keep in mind that they're extremely power efficient and you can do a lot more with them than you probably think that you can. You'll also get support from Synology, so while the hardware might be older than other options, it will be fully supported.
Another benefit of DSM is that you can try the operating system before buying it if you'd like!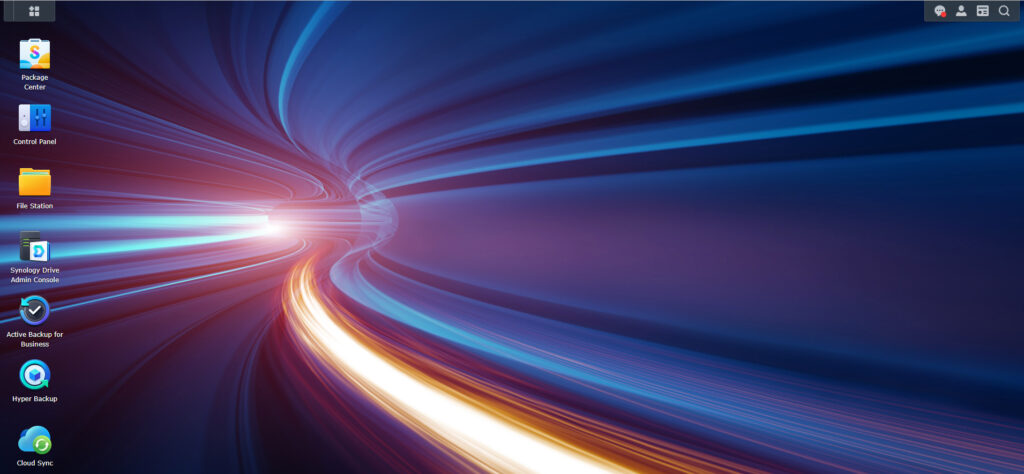 Conclusion & Final Thoughts
This article looked at what is the best TrueNAS alternative. There are other NAS operating systems that you can use, but the three options above are my personal favorites. Synology NAS devices are the outlier here because you must purchase a device in order to run the Synology DSM operating system, but they're incredibly powerful, have a small form factor, and are energy-efficient as well.
If you're picking between Unraid and OpenMediaVault, the hardware requirements are similar so you can realistically use either. However, if you would like to set up a NAS on a Raspberry Pi, you should use OpenMediaVault. Outside of that, they're both beginner-friendly NAS operating systems that you'll be happy with. Please keep in mind, however, that Unraid requires a license purchase.
Thanks for checking out the article on what is the best TrueNAS alternative! If you have any questions on what is the best TrueNAS alternative, please leave them in the comments!