In this article, we're going to look at TrueNAS Core vs. TrueNAS Scale.
TrueNAS Core and TrueNAS Scale are two NAS operating systems designed and developed by iXsystems. While both, TrueNAS Core and TrueNAS Scale are similar, they differ in architecture, functionality, and performance. This article will compare TrueNAS Core and TrueNAS Scale side-by-side.
TrueNAS Core vs. TrueNAS Scale
Before looking at some of the differences between TrueNAS Core and TrueNAS Scale, we'll take a look at exactly what TrueNAS Core and TrueNAS Scale are.
What is TrueNAS Core?
TrueNAS Core (formerly known as FreeNAS) is a NAS operating system designed on an OpenZFS file system and is based on FreeBSD. As a NAS operating system, administrators can create shared folders that can be accessed via SMB, NFS, or iSCSI. You can also configure different permission levels, create groups, add users, and much more.
The biggest benefit of TrueNAS Core is that it's incredibly stable. TrueNAS core has been around since roughly 2005 (though it went by the name FreeNAS for many years). There are some specific features to TrueNAS Core like Jails and Plugins, but TrueNAS Core shares many similarities with TrueNAS Scale that we'll explore below.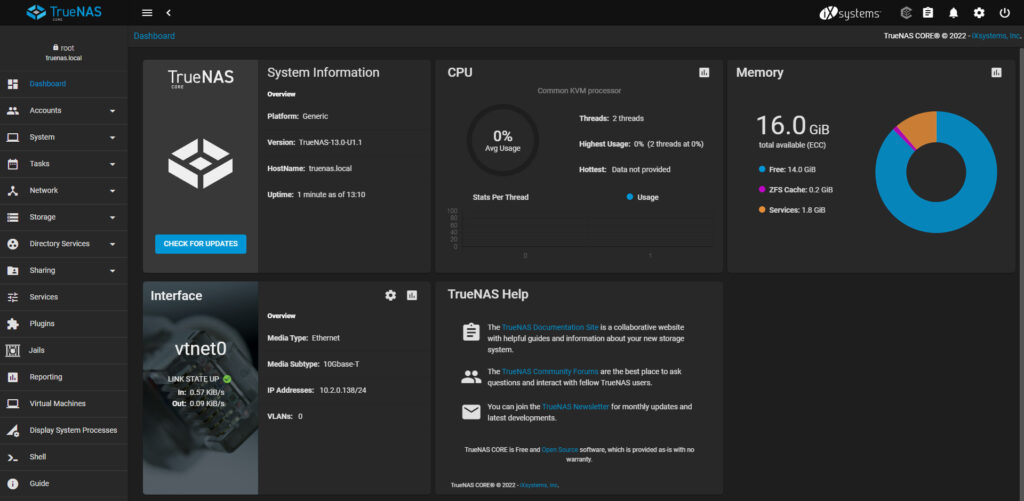 What is TrueNAS Scale?
TrueNAS Scale also runs the OpenZFS file system and is the latest operating system created by iXsystems. TrueNAS Scale is very similar to TrueNAS Core, but it's built on Debian-Linux as opposed to FreeBSD. TrueNAS Scale provides HCI (Hyper-Converged Infrastructure) which allows you to create VMs and Linux containers. TrueNAS Scale also gives you a ton of options for scalability that TrueNAS Core doesn't.
While TrueNAS Scale offers a bunch of benefits, the biggest downside is that it's new. While TrueNAS Core was released in 2005 and has been a trusted NAS operating system for many years, TrueNAS Scale was released in 2022 and is extremely new. That's not necessarily a bad thing, but if longevity or reliability is a concern, TrueNAS Core is better in both areas.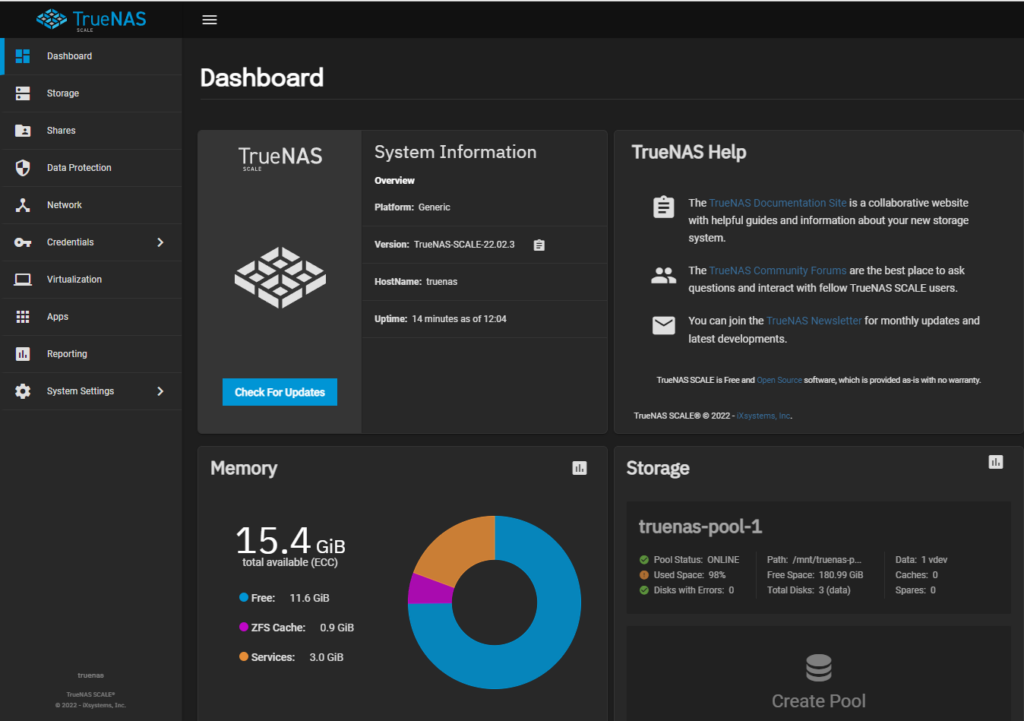 TrueNAS Core vs. TrueNAS Scale – Features
There are some key differences when it comes to TrueNAS Core vs. TrueNAS Scale which we'll take a look at below.
TrueNAS Scale is meant for large-scale environments and data centers. The whole goal of TrueNAS Scale is to give you the flexibility to scale out your setup to have hundreds of petabytes of storage space if needed. It also gives you the option of using high-availability, something that's not available with TrueNAS Core.
From a home-users perspective, this type of scalability is unnecessary, but one huge benefit of TrueNAS Scale is that it allows you to run virtual machines and containers directly inside of the OS. This allows users to set up one flexible server that will run your VMs and Containers, and will also operate as a rock-solid NAS.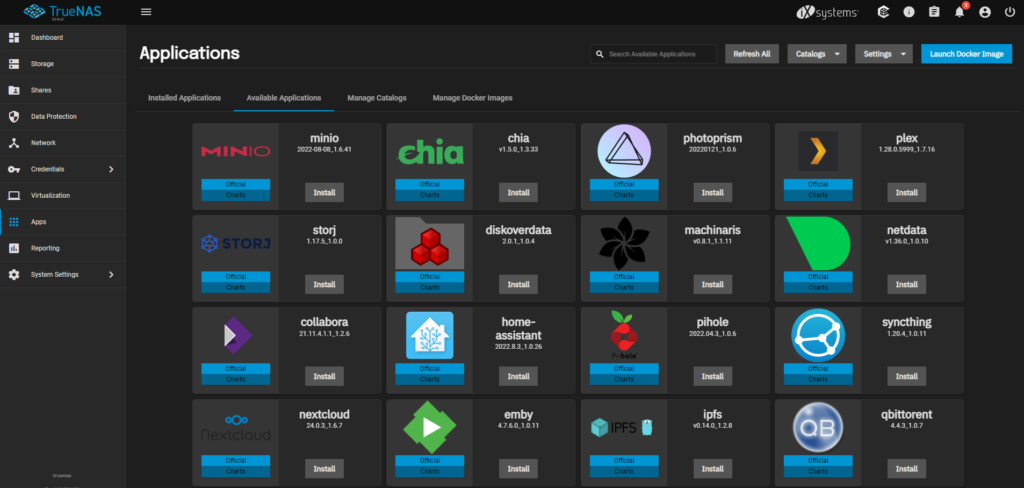 Since TrueNAS Core is based on FreeBSD, a lot of the Debian Linux benefits of TrueNAS Scale are missing. However, you do get the benefit of having an incredibly reliable NAS operating system that has been around since 2005. Looking at this point alone, it's reasonable to say that from a pure stability perspective, TrueNAS Core is superior (at least at this time).
You also have the option of installing plugins (there are iXsystems and community options) that will operate extremely similarly to TrueNAS Scale's Apps. The main difference with plugins is that they are installed inside Jails.
Finally, you can create basic VMs, though TrueNAS Scale should be installed if you need more robust VM capabilities.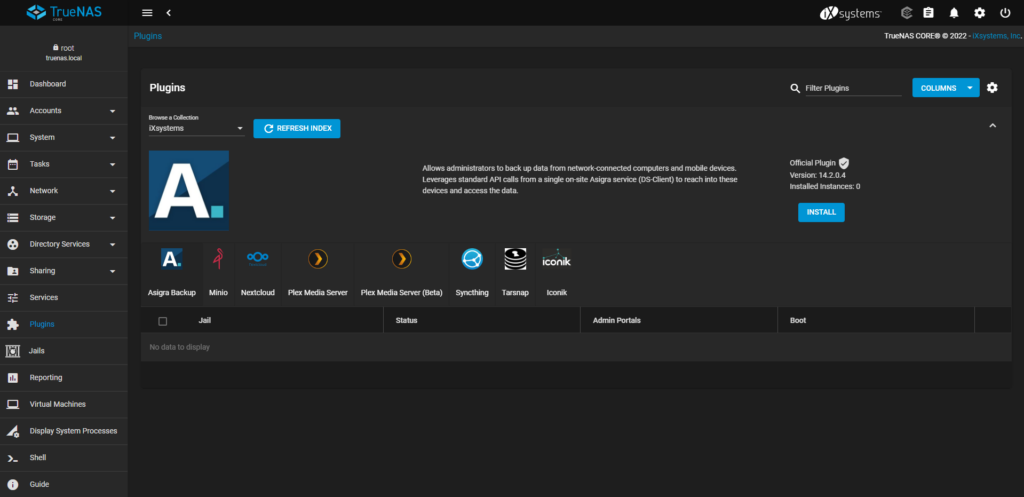 It's also important to note that while TrueNAS Scale may seem like it offers more as far as usability goes, the key to a NAS operating system is…to be a NAS. Since TrueNAS Core excels in this area, it's reasonable to choose stability over features, especially if those features will all be "nice to haves".
There are also tons of key features that both platforms share, like snapshots, bit-rot correction, replication, remote management, deduplication, and more.
Additional Features of TrueNAS Core
Fusion Pools: The fusion pool (also known as ZFS allocation classes, ZFS special vdevs, and metadata vdevs) is a significant feature of the TrueNAS Core operating system. Fusion pools are ideal for speeding up file-based operations. One key benefit is that they can increase the speed of metadata requests.
API Keys: The API keys feature of TrueNAS Core saves you from sharing the root password to your server. API keys simplify the automation of the TrueNAS Core operating system by allowing you to utilize them for services that interact with your NAS
VPN Support: If you don't want to use an enterprise VPN, you can benefit from the native VPN support feature of TrueNAS Core. TrueNAS Core gives you a simple OpenVPN configuration section that will allow you to connect to your local network from an outside location.
Native Encryption: TrueNAS Core offers native encryption and can be used in a variety of ways.
Additional Features of the TrueNAS Scale
Scalable Software-Defined Infrastructure: TrueNAS Scale combines the capabilities of GlusterFS and OpenZFS to give scale-out ZFS capabilities with impressive data management. You can use a single hyper-converged node in your office or home to get a highly available and scalable software-defined infrastructure.
Linux Container Ecosystem: TrueNAS Scale gives access to an established Linux container ecosystem, making application deployment much easier and faster. You can also make customized applications with the help of Docker containers and KVM virtual machines.
Manage Storage Fleets & Clusters: TrueNAS Scale allows you to cluster many systems together and manage them all with the help of TrueCommand.
TrueNAS Core vs. TrueNAS Scale – Pricing
Both, TrueNAS Core and TrueNAS Scale are open-source and free to use. However, if you intend on using TrueNAS in an enterprise environment, you can purchase hardware directly from iXsystems which will come with professional enterprise support.
TrueNAS Core Vs. TrueNAS Scale – User Experience
TrueNAS Scale and TrueNAS Core offer a comprehensive web interface that you use to manage each environment. They are both installed on a USB drive on bare metal (which is used as the boot drive) or can be installed as a virtual machine on a hypervisor like Proxmox or ESXi. Due to this, TrueNAS Core and Scale do not rely on the storage disks to run the operating system.
The key difference to be considered when it comes to user experience is the requirements that the user is trying to fulfill. With TrueNAS Scale, you have the option of running VMs and Containers, and while you can run VMs in TrueNAS Core, it's not nearly as stable or feature-filled as it is in TrueNAS Scale. With that said, if you're strictly looking for a NAS operating system with the intention of using SMB, NFS, S3, or iSCSI with no intentions of scaling the environment, TrueNAS Core is a great option.
Please keep in mind that while TrueNAS Scale can operate with multiple nodes, it is not required, meaning that you can run TrueNAS Scale as an individual device if you'd like.
Conclusion: TrueNAS Core vs. TrueNAS Scale
This article looked at TrueNAS Core vs. TrueNAS Scale with the goal of explaining some of the differences. The biggest downside of TrueNAS Scale at this point is that it's a brand new operating system, meaning that all of the improvements that TrueNAS Core received in prior years may lead to increased reliability and performance.
However, if you're interested in an operating system that will allow you to use feature-filled virtual machines or containers, TrueNAS Scale is the one. Thanks for checking out the article on TrueNAS Core vs. TrueNAS Scale. If you have any questions on TrueNAS Core vs. TrueNAS Scale, please leave them in the comments!