In this article, we will look at Plex vs. Emby by comparing them side-by-side.
Plex and Emby are both media server applications that organize and stream multimedia content to a variety of devices. Plex, known for its polished interface and widespread device support, offers more features with its premium Plex Pass subscription. Emby provides a high level of customization and control, with some premium features available via Emby Premiere. The choice between the two depends on personal preferences, desired features, and budget.
If you're interested in using Plex or Emby, please check out some of our Plex tutorials or Emby Tutorials explaining how to set each up!
What is Plex?
Plex is a streaming media server that's designed to take all of your media, whether it's music, photos, or videos, and make it available to all of your devices running the Plex client. While Plex does require you to use your own media, you can easily stream it to any device to set up your own personal Netflix or Spotify.
Plex has a user-friendly interface where you can manage and organize your content, where it crawls in the artwork, descriptions, and even ratings for the media. Plus, it has a feature that enables sharing with friends and family, allowing you to create a shared streaming experience. It's also compatible with a wide range of devices, including PCs, smartphones, tablets, and smart TVs, ensuring you can enjoy your media wherever you are.
What is Emby?
Emby is a media server software that provides you with a method to manage your media collection (audio, video, photos, or podcasts) in an organized way, by using one of multiple different Emby client applications.
Similar to Plex, Emby allows you to bring your media together into one place and make it accessible on multiple devices, from anywhere.
Emby's interface is designed to be user-friendly, making media organization straightforward. It offers automatic metadata fetching, where it pulls relevant information about your media from the internet and displays it while using the application. Emby also supports live TV and DVR capabilities.
Plex vs. Emby: Side-by-Side Comparison
We will look at Plex vs. Emby below to compare some of the differences between both applications.
| Feature | Plex | Emby |
| --- | --- | --- |
| Media Streaming | Yes | Yes |
| Client Apps | Wide compatibility | Wide compatibility |
| Media Organization | Automatic metadata | Automatic metadata |
| Customization | Limited | Medium |
| Live TV & DVR | Plex Pass required | Available for free |
| Hardware Transcoding | Plex Pass required | Emby Premiere Required |
| Plugins & Add-ons | Limited support | Extensive support |
| Remote Access | Easy setup | Requires manual configuration |
| Subscription | Optional Plex Pass | Optional Emby Premiere |
Device Compatibility – Plex vs. Emby
As mentioned above, Plex and Emby both must be installed as a server, meaning that you must pick a device that will store your media and install Plex or Emby on that device. The server applications are different than the client applications.
Plex Device Compatibility
From a pure compatibility standpoint, Plex supports significantly more platforms than Emby has in the past, though Emby is getting better support as the years go on.
However, it's important to mention that it's strictly from an installation package perspective, and once the server is installed, there are tons of client applications for both devices. This helps when installing the server and configuring the application as the process is slightly more streamlined.
Plex supports Docker (as does Emby), which means that even if there isn't an install package for the device you're using, if it supports Docker, you can install it.
Overall, Plex wins in this category versus basically any media streaming device as Plex compatibility is extremely broad. There's a good chance that it'll be possible to install the Plex server on any device that you're using.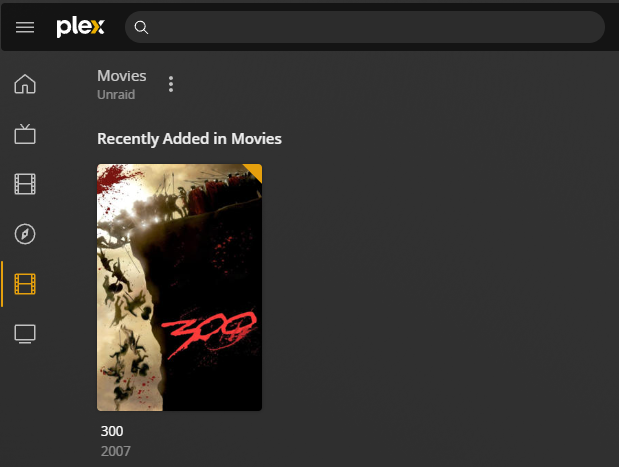 There are a bunch of client devices that Plex supports and you should be able to find a client application to use fairly easily.
Emby Device Compatability
Emby does have a bunch of server applications, but the overall support isn't as broad as it is for Plex. However (as mentioned above), this is on the server side, meaning it's easier to find and install a package for Plex than for Emby, but there are a ton of devices that support Emby.
As an example of a recent addition, there's a default package for Emby on a Synology NAS (when there never was in the past). To be clear, there's a Plex package as well.

Emby and Plex both support Docker, so in general, you can get either installed on any device supporting Docker.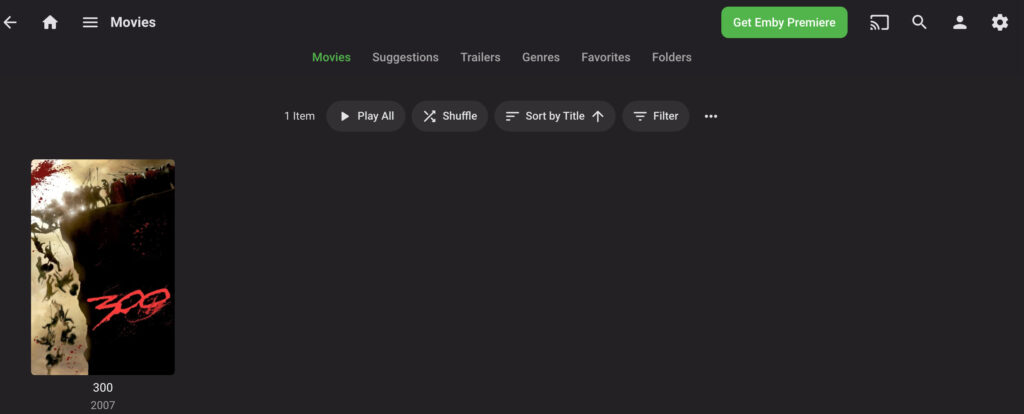 Similar to Plex, there are a ton of client devices that Emby supports. The list is similar for both, meaning that you should be able to find an application for whichever device you'd like to use.
Features – Plex vs. Emby
Plex and Emby offer similar core functions, however, there are differences in some of the paid features that they offer.
Plex Features
Plex has a core set of functionality (with the main being media streaming) that's similar to Emby, however, there are some key differences. First, Plex allows users to stream 200+ free live TV channels and over 50,000 movies and TV shows.
Plex also offers the Plex Pass which gives users the ability to use Plex as a DVR, stream music to the Plexamp application, and use hardware transcoding.
This means that if you want to use hardware transcoding with Plex, you must purchase the Plex Pass.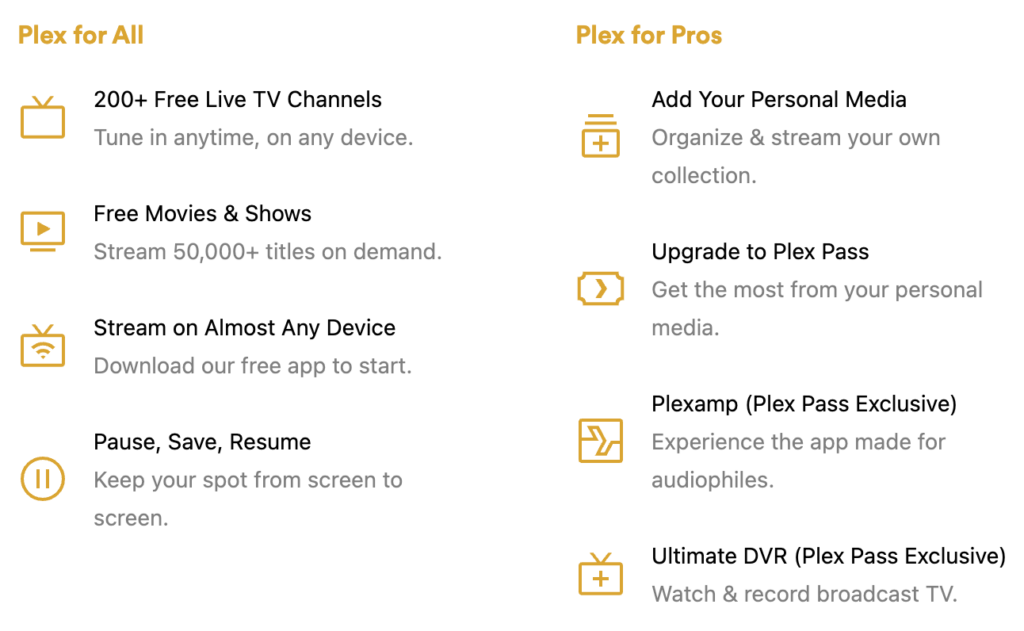 Emby Features
There are many different features that Emby supports. However, the most important feature for most is the ability to stream media from your Emby server to client devices.
Emby is exceptional in this regard, however, these other features will be beneficial for many users as well.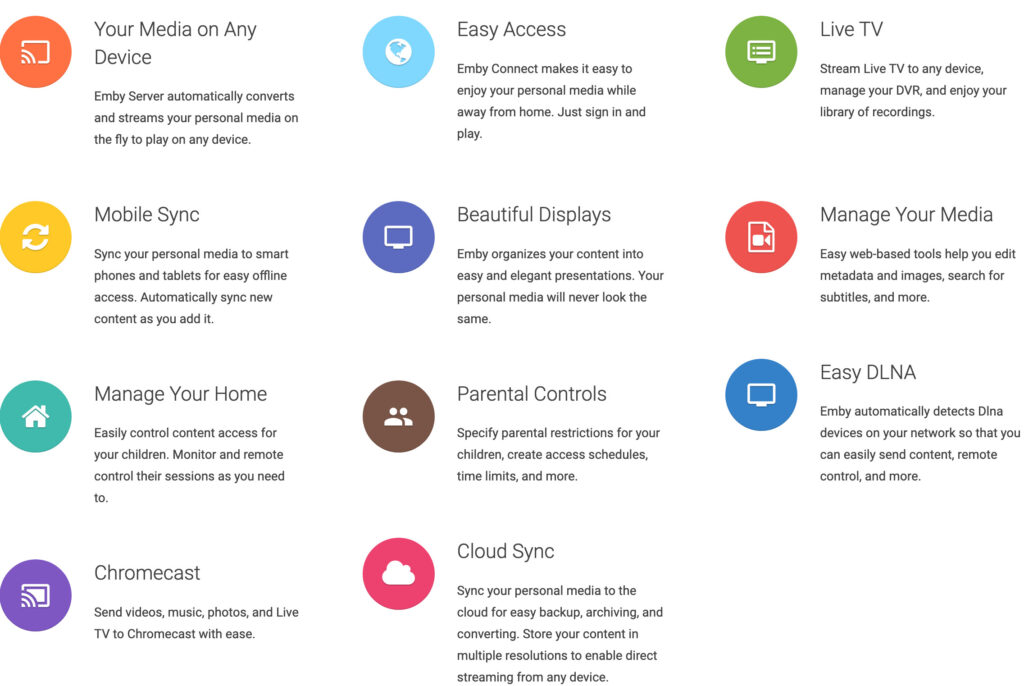 Similar to Plex (with the Plex Pass), Emby has Emby Premiere which offers many additional features. The features are different for Plex and Emby (at least from a paid feature perspective), so if either of the applications above has a feature that the other doesn't and you'd like to use that, one option may be better than the other.
User Interface – Plex vs. Emby
The user interface of any application is extremely important, but there's one incredibly important point that must be discussed when comparing Plex vs. Emby. Emby is a lot simpler than Plex and it's somewhat easier to understand.
As the years have gone on, Plex has become more and more commercialized and if you're interested in streaming other media types (or simply browsing), Plex is significantly better as they actually offer that functionality.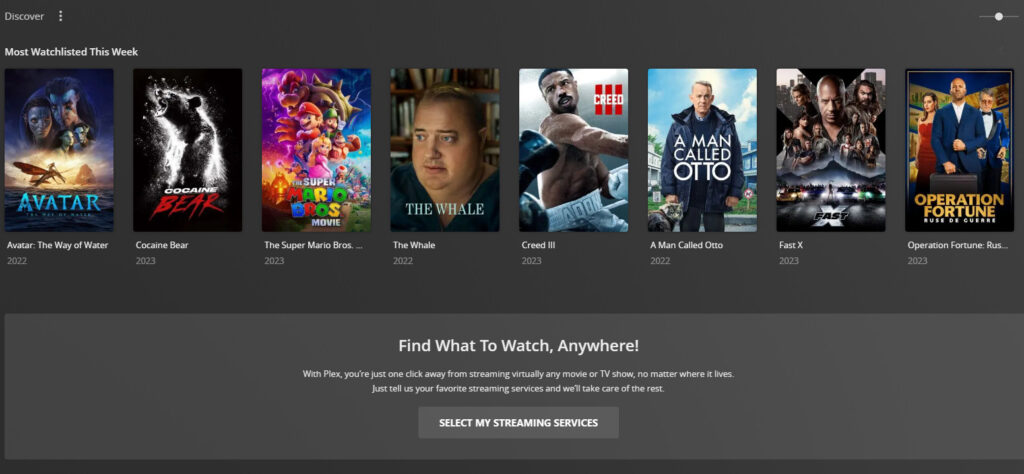 The screenshot above shows the Discover tab in Plex, where you can aggregate your media services and display content from other services. This is extremely powerful, though it can get overwhelming depending on how you'd like the user interface to function.
Emby is extremely similar to Jellyfin from a user interface perspective (Jellyfin is a fork of Emby, after all), though it's more commercialized. If you're interested in a basic user interface, I'd really consider looking at Jellyfin as it displays your media and that's it.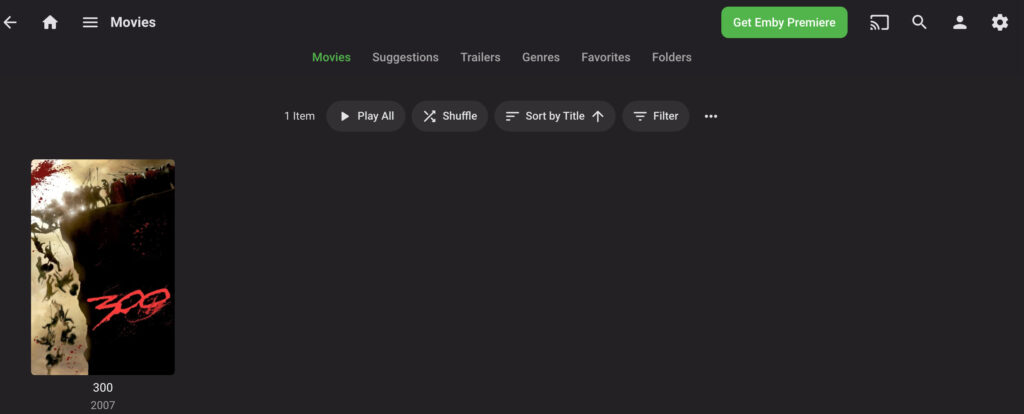 Final Thoughts: Emby vs. Plex
This article looked at Plex vs. Emby to determine the best option for most users. The core functionality of Plex and Emby are extremely similar (they even look similar), however, these are some of the biggest differences between Plex vs. Emby.
Overall, Plex and Emby are very similar, though I have always preferred Plex. I think that from a support perspective, Plex is better, and from a core offering perspective, they're practically indistinguishable. Outside of a specific offering that Emby Premiere has that you'll use specifically, I think most people interested in using Emby should try Jellyfin instead.
Overall, I tend to think that Plex is the better overall product offering, but it's mainly because I don't find any specific Emby Premiere features that I feel like I need. Quite simply, if you want to use specific features in Emby Premiere, go for it, but everyone else will probably be better off with Plex as the Plex Pass offers better features for the money (in my opinion, of course, but I love the Plexamp application).
Thanks for checking out the article on Plex vs. Emby. If you have any questions on Plex vs. Emby, please leave them in the comments!