In this article, we will look at Kodi vs. Plex by comparing them side-by-side.
Kodi and Plex are both media server software that allows you to organize and stream media content. They both support various media types and generally work with most platforms. However, Kodi and Plex are extremely different in many areas which we'll dive deeper into below.
Right up front, Plex is a media server solution, while Kodi is a media client solution. Plex allows you to connect to its server from client devices (mobile phones, TVs, etc), while Kodi is installed as a standalone application on those devices. You can stream media from Kodi using UPnP, but there's a setup process and the functionality is slightly different than on Plex.
We'll look and a complete breakdown of Kodi vs. Plex below. Since Plex can be installed on various devices, please check out some of our Plex tutorials if you're interested in configuring it!
What is Kodi?
Kodi is a free, open-source media player that organizes and plays multimedia content like videos, music, and photos. As a highly customizable platform, it supports a vast range of file formats and platforms. It can stream media from the internet, play local files, or access all your media from a home network. Kodi's ability to install third-party plugins further enhances its functionality, catering to a wide range of user preferences.
Kodi has a clean user interface and works well as a standalone client, or media streaming server (though it's handled differently than Plex manages it). Kodi is compatible with tons of different devices, from PCs to smartphones, tablets, and even video game consoles. Kodi has been a recognized name in the media streaming space since 2014 but has existed since 2002 under its first name XBMC.
What is Plex?
Plex is a streaming media server that's designed to take all of your media, whether it's music, photos, or videos, and make it available to all of your devices running the Plex client. While Plex does require you to use your own media, you can easily stream it to any device to set up your own personal Netflix or Spotify.
Plex has a user-friendly interface where you can manage and organize your content. Plex crawls in the artwork, descriptions, and even ratings for the media stored. Plus, it has a feature that enables sharing with friends and family, allowing you to create a shared streaming experience. It's also compatible with a wide range of devices, including PCs, smartphones, tablets, and smart TVs, ensuring you can enjoy your media wherever you are.
Kodi vs. Plex: Side-by-Side Comparison
We will look at Kodi vs. Plex below to compare some of the differences between both applications.
Device Compatibility – Kodi vs. Plex
As mentioned above, Plex must be installed as a server, while Kodi is generally installed as a client. After Plex is installed, you can connect to it from various client devices, while Kodi can be used as a standalone client or by using UPnP, SMB, or NFS (which we'll look at below).
Kodi Device Compatibility
Kodi has been designed to be compatible with various devices, however, the list is not as extensive as Plex.
Kodi shines when installed on devices like an Android TV box or a Raspberry Pi, turning them into a powerful media server. Thanks to its open-source nature, you can essentially run Kodi on any device that can run Python (the language Kodi is written in), expanding its device compatibility.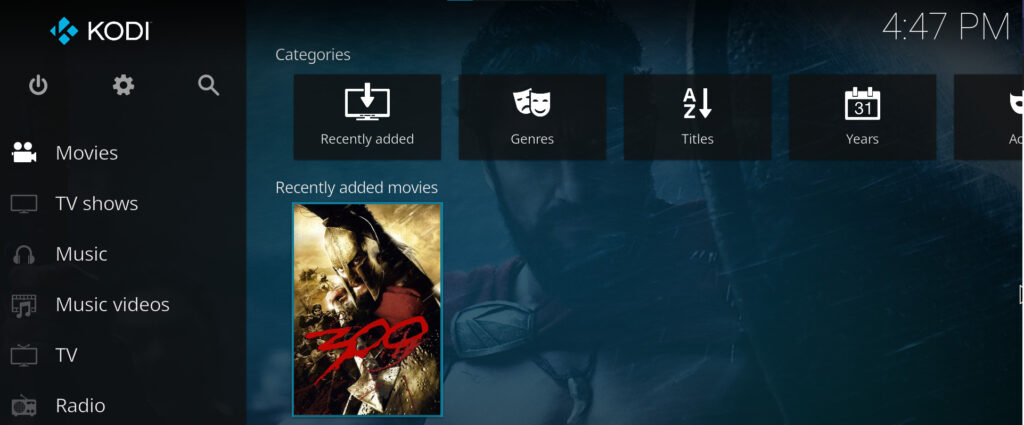 Plex Device Compatibility
From a pure compatibility standpoint, Plex supports various different platforms. However, it's important to mention that it's strictly from an installation package perspective. For example, there isn't a package for Kodi on a Synology NAS, however, there is for Plex.
A portion of this is due to the way that Kodi functions, but regardless, Plex has a ton of options from a device perspective. This helps when installing and configuring the application as the process is slightly more streamlined.
With that said, Plex supports Docker as well, which means that even if there isn't an install package for the device you're using, if it supports Docker, you can get it installed.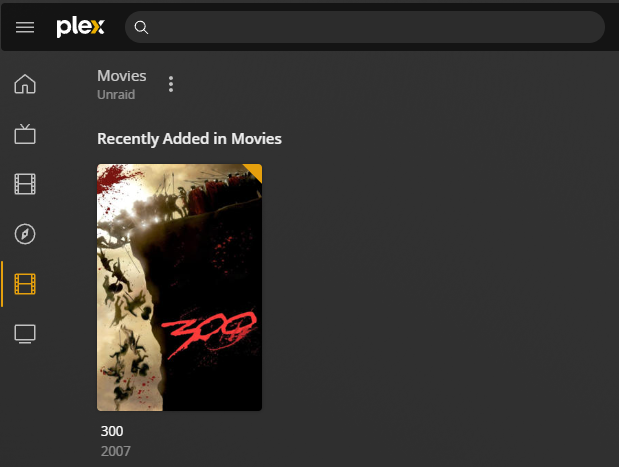 There are a bunch of client devices that Plex supports as well. Overall, the list is extensive for Plex, however, most users will find a client device for the majority of devices they have for Kodi as well.
Features – Kodi vs. Plex
There are fairly significant differences when it comes to features when comparing Kodi and Plex.
Kodi: Features
Where Kodi excels over Plex, is in the customizable features that it offers. Kodi has support for custom skins, offers tons of different community-built add-ons, and even has support for emulated games. This allows Kodi to be an entire media server replacement, whereas Plex is generally an addition to a broad lineup of media applications.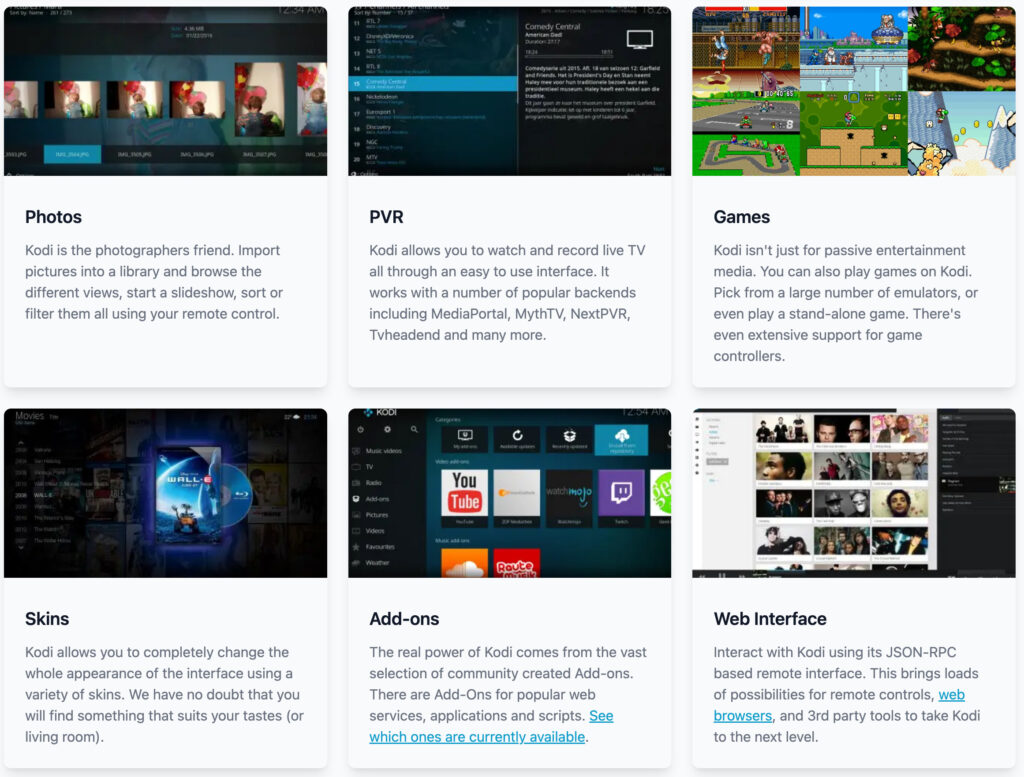 Plex Features
Plex has a core set of functionality (mainly media streaming) that's similar to Kodi, however, there are some key differences. First, Plex allows users to stream 200+ free live TV channels and over 50,000 movies and TV shows natively.
Plex also offers the Plex Pass which gives users the ability to use Plex as a DVR, stream music to the Plexamp application, and use hardware transcoding.
However, if you want to use hardware transcoding with Plex, you must purchase the Plex Pass.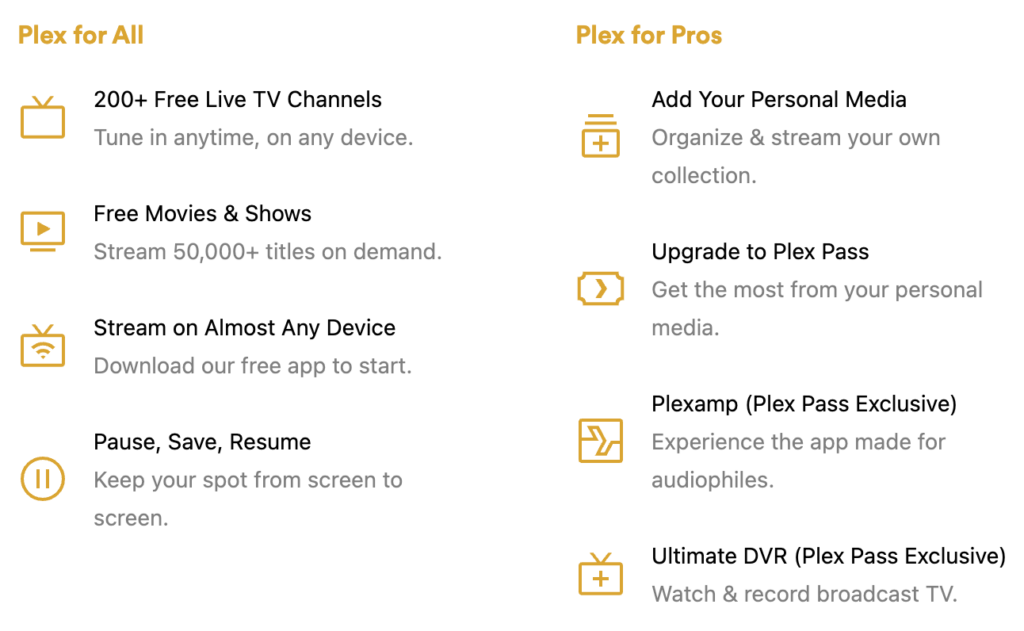 User Interface – Kodi vs. Plex
The user interface of any application is extremely important, but there's one incredibly important point that must be discussed when comparing Kodi vs. Plex. Kodi is clean, and that's a great thing.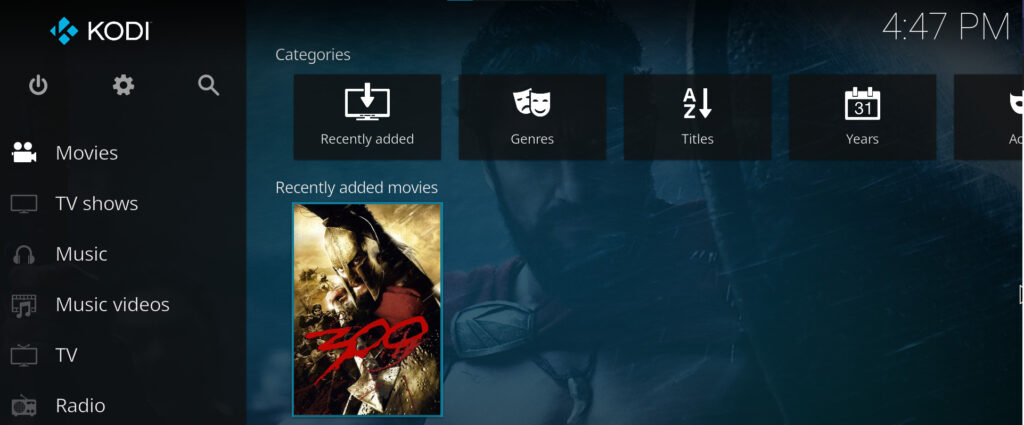 As the years have gone on, Plex has become more and more commercialized and if you're interested in streaming other media types (or simply browsing), Plex is significantly better as that functionality is built-in natively.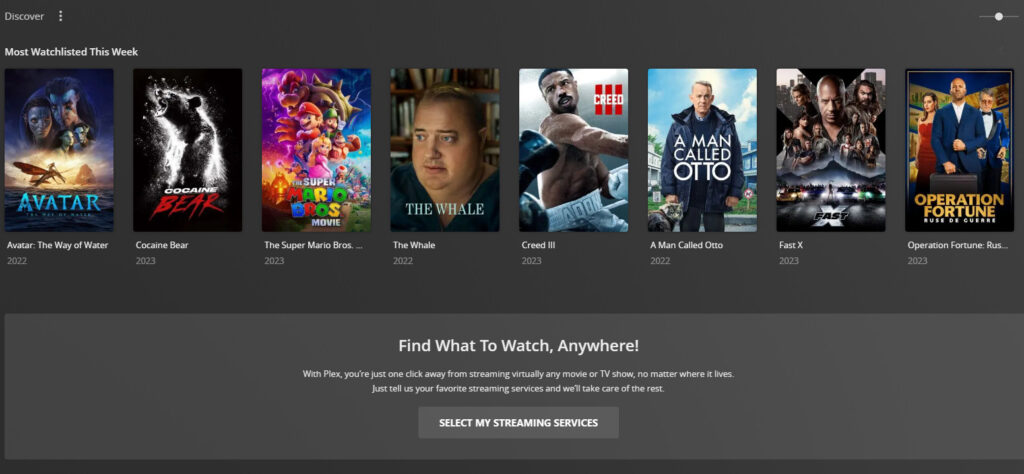 The screenshot above shows the Discover tab in Plex, where you can aggregate your media services and display content from other services. This is extremely powerful, though can get overwhelming when comparing it to the basic and clean interface that Kodi provides.
Overall, I find the Kodi interface to be better than Plex. In fact, I find the Kodi interface to be better than almost any streaming platform (including Jellyfin and Emby). It's clean, looks great, and functions well.
With that said, user interfaces are generally subjective and while I find the Kodi user interface to be better than Plex's, that doesn't necessarily mean that it is.
Media Streaming – Kodi vs. Plex
How media is streamed is incredibly important, but the way that Kodi and Plex handle media streaming is entirely different. First, Kodi can be used as a standalone media player. This means that if you simply have an individual device where you'd like to stream media (Windows PC, Raspberry Pi, etc), Kodi can be used to play your media.
This is drastically different than Plex, where Plex requires a server (which can be set up on various devices (like a Synology NAS, Raspberry Pi, TrueNAS, Unraid, etc). With that server, you can connect from client devices and stream media.

By default, Kodi is a client device, though you can use UPnP to allow other devices to stream media from Kodi. This requires you to have an individual Kodi instance act as a server and stream media to other devices.

You can also set up Kodi as an SMB or NFS Client where you stream media from a central location like a NAS, but still, this isn't the same as the simple server that Plex provides.
It also requires a separate setup process for each client device, but you can utilize Kodi this way and get similar functionality to Plex if you'd like.
Final Thoughts: Kodi vs. Plex
This article looked at Kodi vs. Plex to determine the best option for most users. The core functionality of Kodi and Plex are extremely similar, however, these are some of the biggest differences between both applications. The biggest benefit that Kodi offers is that it's free and open-source, with an amazing user interface and great features. While Plex does have a free tier, to unlock all features, the Plex Pass must be purchased.
Overall, I find that Kodi has a better user interface and offers a lot more functionality than Plex does. The exception to that statement is default server/client configurations, though UPnP will technically allow you to utilize some of those features. It's just not as streamlined as it is on Plex.
To be clear, Plex is king when it comes to server/client streaming, and if that's your only goal, I'd recommend using Plex because it will have better overall functionality. UPnP or SMB/NFS will give you some of that functionality from Kodi, but it's not as clean in my opinion as Plex provides. Keep in mind that Kodi and Plex are free, so you can try both out if you'd like!
Thanks for checking out the article on Kodi vs. Plex. If you have any questions on Kodi vs. Plex, please leave them in the comments!