In this tutorial, we're going to look at how to install Plex on Unraid.
Running a media server on your NAS is arguably the best device to run it on. NAS devices are generally online 24/7 and the media that you have is normally on that device. In my opinion, Plex is the best media server that you can run, and installing it on Unraid is nice and easy thanks to the official Plex package (though as you'll learn below, it's really installed in Docker). The instructions below will walk you through the process of how to install Plex on Unraid!
If you have another device that you'd like to install Plex on, please check out our other tutorials!
How to Install Plex on Unraid
1. Log in to Unraid and select Apps.

2. Search for Plex and select Install on the official Plex-Media-Server application.
NOTE: Please keep in mind that this will install Plex using Docker!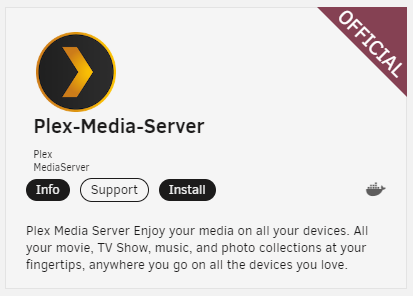 3. Change the name to be whatever you'd like, then match the settings as the information below, substituting your media folder in the [Media] field:
Host Path 2: /mnt/user/appdata/Plex-Media-Server/transcode
Host Path 3: /mnt/user/[Media]
Key 1: [Plex Claim Code]
NOTES:
The Host Path 2 location we are using will map the transcode volume to a new Plex-Media-Server folder location. The Plex-Media-Server folder is also where the configuration for Plex will live.
The Host Path 3 location above (/mnt/user/Media) is where my Media is stored on Unraid. If you are storing your media files in a different location, you'll have to select that location. All of your media (movies, TV shows, music, etc.) must exist in this folder.
You can create a Plex Claim Code by navigating to the website and signing in. From there, you'll be given a Plex Claim Code that you can paste into the Key 1 field. You do not have to use a claim code. This will simply assign the new Plex instance to your user account, but you can complete that during the initial setup if you'd like.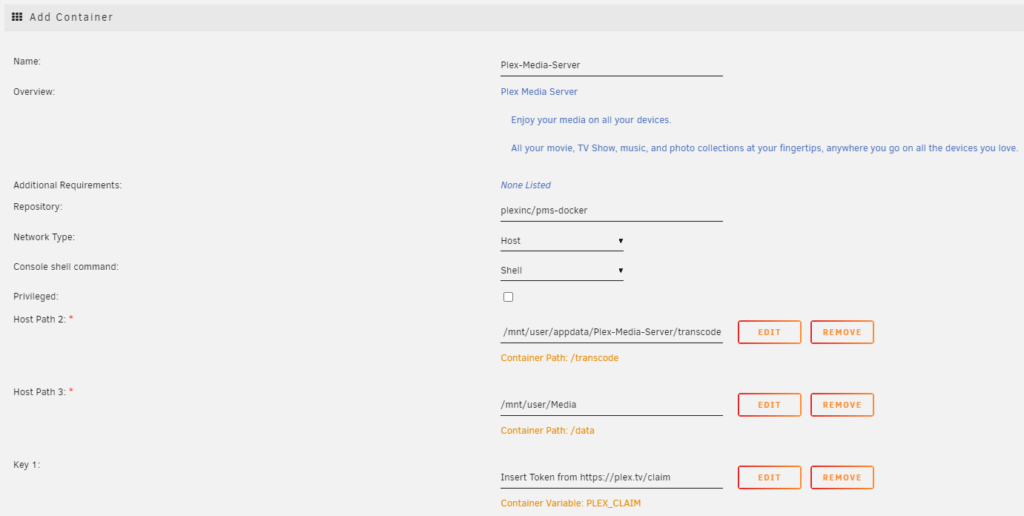 4. At the bottom, select Show more settings. The path shown is where the configuration information will live for your Plex Media Server. This will be your entire configuration, meaning that if you want to back up your configuration or eventually move it to another server, this is the folder you'll need to use.
If you'd like to modify this location, you can do that in this section, just keep in mind that we're using the same folder for the /transcode mount. When you're done modifying it, select Apply to create the container!

5. Select the Docker tab and toggle Autostart to On so that Plex automatically starts when Unraid starts.

6. Navigate to the webpage below to access Plex. If you used a Plex Claim Code, you shouldn't have to claim the Plex server after logging in.
http://[UNRAID_IP]:32400/web/index.html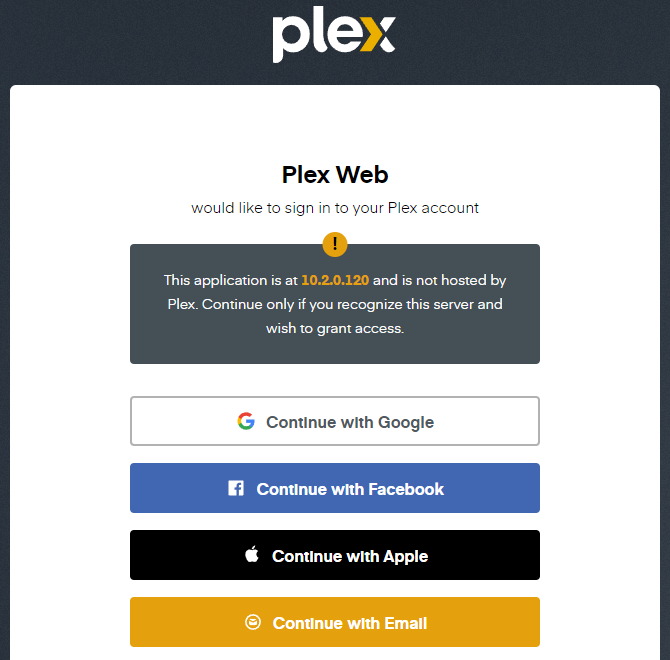 7. At this point, you'll have to go through the Plex setup process to add your media files.
NOTE: Please keep in mind that we mapped all of our media files to the /data location, so you'll have to set up different folders for your Movies, Music, TV Shows, etc.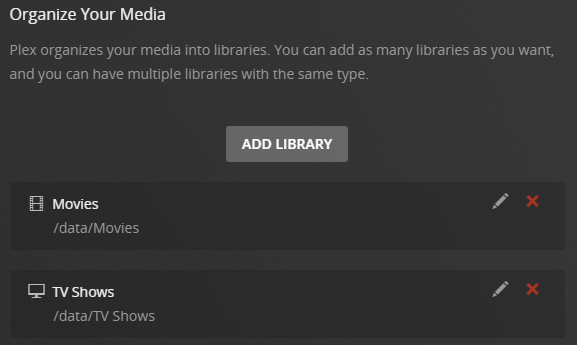 8. After you finish setting up Plex, all of your media should start to crawl in!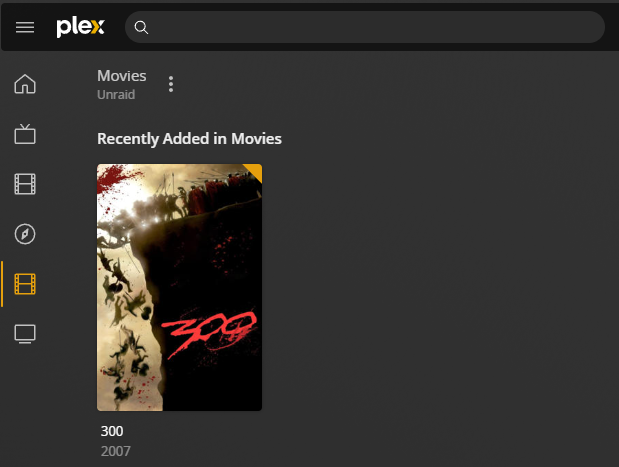 Conclusion – How to Install Plex on Unraid
In this tutorial, we looked at how to install Plex on Unraid. The overall process to install Plex on Unraid isn't particularly difficult, but you must ensure that you add the correct media folder so that Plex can see that data. Also keep in mind that all important data for this container is in the /mnt/user/appdata/Plex-Media-Server/ location, so if you ever want to move this Plex server, ensure that you copy that folder to the new location.
Thanks for checking out the tutorial on how to install Plex on Unraid. If you have any questions on how to install Plex on Unraid, please leave them in the comments!