In this article, we will look at Jellyfin vs. Plex by comparing them side-by-side.
Jellyfin and Plex are both media streaming services that are self-hosted on many different types of devices. From a pure usability standpoint, Jellyfin and Plex offer extremely similar features and allow you to stream media from a central device to client devices. That's a key point, as Jellyfin and Plex are installed as a server, then client devices can connect to them to stream media.
If you're interested in using Jellyfin or Plex, please check out some of our Jellyfin tutorials or Plex tutorials explaining how to set each up!
Jellyfin vs. Plex: Side-by-Side Comparison
We will look at Jellyfin vs. Plex below to compare some of the differences between both applications.
Device Compatibility – Jellyfin vs. Plex
As mentioned above, Jellyfin and Plex both must be installed as a server, meaning that you must pick a device that will store your media and install Jellyfin or Plex on that device. The server applications are different than the client applications.
Jellyfin Device Compatibility
There are many devices that have installation packages for Jellyfin, however, the list is much smaller than it is for Plex.
I have found that Jellyfin runs best on Docker, and in my opinion, this is the most important platform for any application to have support for because Docker is widely used on various different platforms. Simply having a Docker package will give you support on tons of different devices, so technically, Jellyfin's support is broad.
One of my favorite devices to run Jellyfin on is a Synology NAS as people who own a NAS will generally keep their media on that device. However, you can run Jellyfin on any device that supports Docker (even something like a Raspberry Pi).

Finally, there are a bunch of client devices that you can install Jellyfin on, and for the most part, any device you're using will have support for some type of Jellyfin client application.
Plex Device Compatibility
From a pure compatibility standpoint, Plex supports significantly more platforms than Jellyfin does. However, it's important to mention that it's strictly from an installation package perspective. For example, there isn't a package for Jellyfin on a Synology NAS, however, there is for Plex. This helps when installing and configuring the application as the process is slightly more streamlined.
With that said, Plex supports Docker as well, which means that even if there isn't an install package for the device you're using, if it supports Docker, you can get it installed.
Overall, Plex wins in this category and there's a good chance that it'll be possible to install Plex on any device that you're using, where Jellyfin support is broad only with Docker.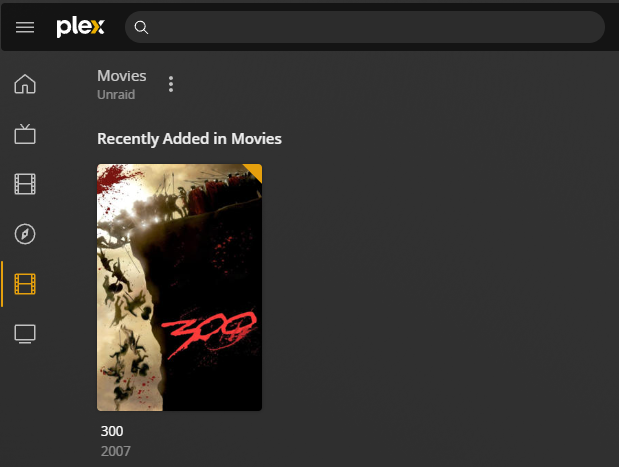 Similar to Jellyfin, there are a bunch of client devices that Plex supports. Overall, the list is a little more extensive for Plex than it is for Jellyfin, however, most users will find a client device for the majority of devices they have.
Features – Jellyfin vs. Plex
Jellyfin and Plex offer similar core functions, however, there are differences in some of the features that they offer.
Jellyfin Features
The core functionality that Jellyfin offers is media streaming. After you configure the Jellyfin server and connect to it from a client device, you'll be able to stream media from the server to the clients. There are other features like Live TV, DVR, and hardware transcoding as well, but the core functionality is media streaming.
There are some specific Plex features that aren't available on Jellyfin, which we'll take a look at below. It is important to note, however, that everything with Jellyfin is entirely free, while Plex has a Plex Pass that can be purchased (which unlocks additional features) for a fee.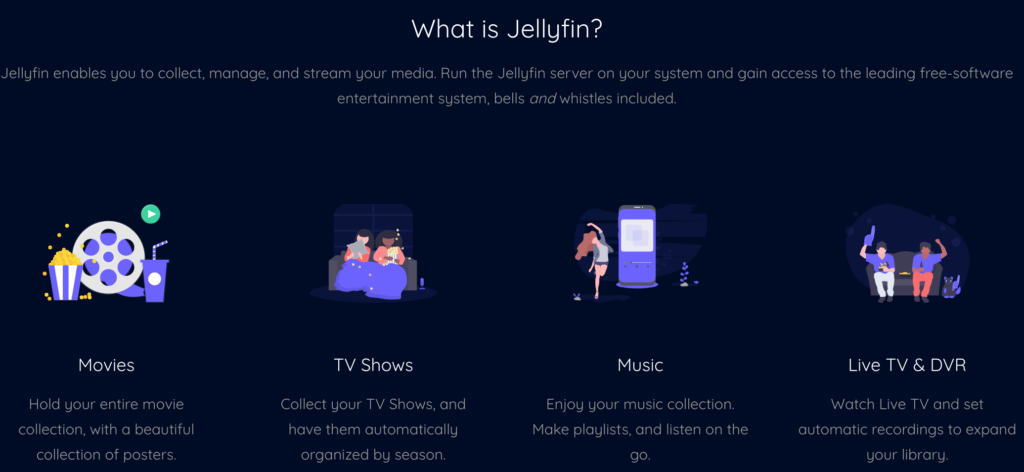 Plex Features
Plex has a core set of functionality (with the main being media streaming) that's similar to Jellyfin, however, there are some key differences. First, Plex allows users to stream 200+ free live TV channels and over 50,000 movies and TV shows.
Plex also offers the Plex Pass which gives users the ability to use Plex as a DVR, stream music to the Plexamp application (Jellyfin has a similar application, though it's not as good in my experience) and use hardware transcoding.
This means that if you want to use hardware transcoding with Plex, you must purchase the Plex Pass, while Jellyfin allows you to transcode for free.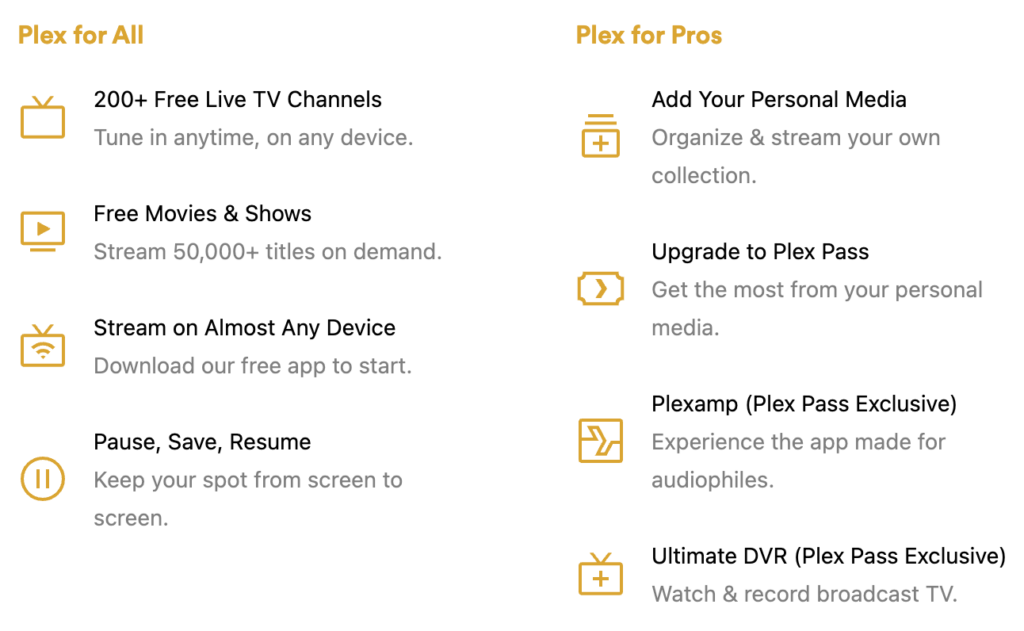 User Interface – Plex vs. Jellyfin
The user interface of any application is extremely important, but there's one incredibly important point that must be discussed when comparing Jellyfin vs. Plex. Jellyfin is basic and that's a great thing.
As the years have gone on, Plex has become more and more commercialized and if you're interested in streaming other media types (or simply browsing), Plex is significantly better as they actually offer that functionality.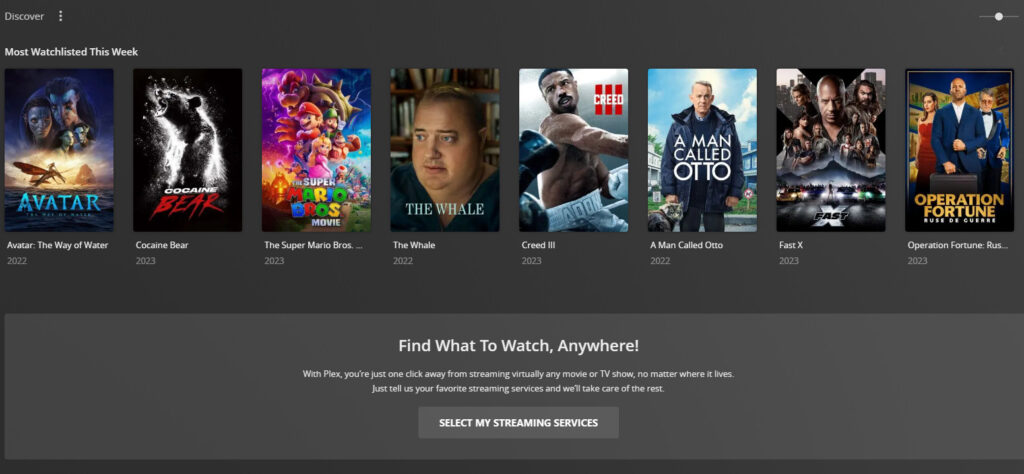 The screenshot above shows the Discover tab in Plex, where you can aggregate your media services and display content from other services. This is extremely powerful, though can get overwhelming when comparing it to the basic and clean interface that Jellyfin provides.

Overall, I find the Jellyfin interface to be better than Plex. Mostly because the content displayed on it is actually my content and I don't have to search through various sections to get to the content that I'm looking for. With that said users who will actually use the Plex discover features may find it to be a lot more helpful.
Final Thoughts: Jellyfin vs. Plex
This article looked at Jellyfin vs. Plex to determine the best option for most users. The core functionality of Jellyfin and Plex are extremely similar, however, these are some of the biggest differences between both applications. The biggest benefit that Jellyfin offers is that it's free and open-source. While Plex does have a free tier, to unlock all features, the Plex Pass must be purchased.
If you're someone who doesn't want to experiment with Docker, it's significantly easier to set up Plex and you should start there. However, if you're willing to use Docker, I'd suggest trying out Jellyfin and seeing if it fits your requirements. If it does, you can (and probably should) still explore Plex, but at least you'll know that you can use a free option if required.
If you'd rather go with an application that's easier to install or just want the biggest name in the game, go with Plex. Plex is an awesome product that has withstood the test of time and you'll almost certainly be happy with it. It's also important to highlight that simply comparing Jellyfin vs. Plex shows that they're very similar products that you'll most likely be happy with.
Thanks for checking out the article on Jellyfin vs. Plex. If you have any questions on Jellyfin vs. Plex, please leave them in the comments!