This article will look at Jellyfin vs. Emby to determine the best media server you can use.
Jellyfin and Emby are both media server software, but they differ in their approach. Jellyfin is an open-source, fully free solution, whereas Emby offers a freemium model with some features locked behind a paywall. Both platforms support a wide range of devices and customization options.
From a pure usability standpoint, Jellyfin and Emby offer extremely similar features, allowing you to stream media from a central device to client devices. That's a key point, as Jellyfin and Emby are installed as a server, then client devices can connect to them to stream media.
Jellyfin is a fork of Emby, meaning that it's extremely similar but entirely free (unlike something like Plex). Even the user interface is similar due to the origin of Jellyfin (which we'll look at below).
If you're interested in using Jellyfin or Emby, please check out some of our Jellyfin tutorials or Emby tutorials explaining how to set each up! While we are comparing Jellyfin vs. Emby, I want to be clear that they're extremely similar.
Jellyfin vs. Emby: Side-by-Side Comparison
We will look at Jellyfin vs. Emby below to compare some of the differences between both applications.
| Feature | Jellyfin | Emby |
| --- | --- | --- |
| Media Streaming | Yes | Yes |
| Client Apps | Wide compatibility | Wide compatibility |
| Media Organization | Automatic metadata | Automatic metadata |
| Customization | High | High |
| Live TV & DVR | Available for free | Available for free |
| Parental Controls | Available for free | Available for free |
| Hardware Transcoding | Available for free | Emby Premiere Required |
| Plugins & Add-ons | Extensive support | Extensive support |
| Remote Access | Manual configuration | Manual configuration |
| Subscription | Completely free | Optional Emby Premiere |
Device Compatibility – Jellyfin vs. Emby
As mentioned above, Jellyfin and Emby both must be installed as a server, meaning that you must pick a device that will store your media and install Jellyfin or Plex on that device. The server applications are different than the client applications.
Jellyfin Device Compatibility
There are many devices that have installation packages for Jellyfin, however, the list is much smaller than it is for Emby.
I have found that Jellyfin runs best on Docker, and in my opinion, this is the most important platform for any application to have support for because Docker is widely used on various different platforms. Simply having a Docker package will support tons of different devices, so technically, Jellyfin's support is broad.
One of my favorite devices to run Jellyfin on is a Synology NAS as people who own a NAS will generally keep their media on that device. However, you can run Jellyfin on any device that supports Docker (even something like a Raspberry Pi).

Finally, there are a bunch of client devices that you can install Jellyfin on, and for the most part, any device you're using will have support for some type of Jellyfin client application.
Emby Device Compatability
From a pure compatibility standpoint, Emby supports more platforms than Jellyfin does. However, this is generally on the server side, meaning it's easier to find and install a package for Emby than for Jellyfin. With that said, support for Jellyfin is getting better in this area – it's just not quite there yet.
As an example, there's a default package for Emby on a Synology NAS, however, there isn't anything for Jellyfin.

Jellyfin is generally installed using Docker (which Emby supports as well), meaning that Emby can be installed on all of the same devices that Jellyfin can, with the distinction that it's easier to install it on certain devices (where a package install is supported).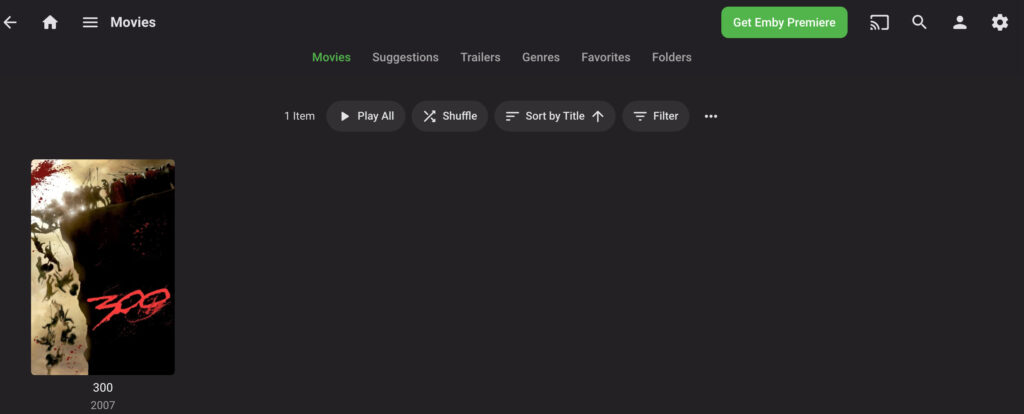 Similar to Jellyfin, there are a ton of client devices that Emby supports. The list is similar for both, meaning that you should be able to find an application for whichever device you'd like to use.
Features: Jellyfin vs. Emby
Jellyfin and Emby offer similar core features, though there are some differences which we'll take a look at below.
Jellyfin Features
The core functionality that Jellyfin offers is media streaming. After you configure the Jellyfin server and connect to it from a client device, you'll be able to stream media from the server to the clients. There are other features like Live TV, DVR, and hardware transcoding as well, but the core functionality is media streaming.
There are some specific Emby features that aren't available on Jellyfin, which we'll take a look at below. It is important to note, however, that everything with Jellyfin is entirely free, while Emby has Emby Premiere that can be purchased (to unlock additional features) for a fee.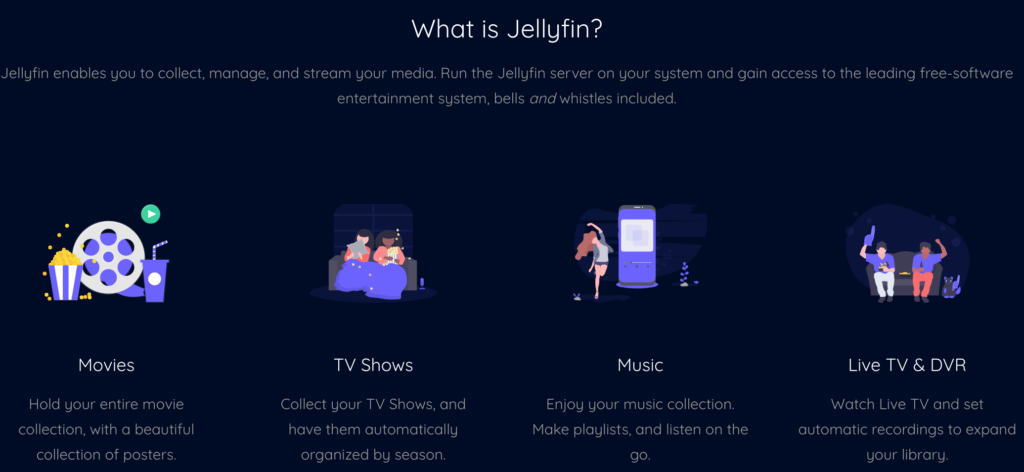 Emby Features
There are many different features that Emby supports. However, the most important feature for most is the ability to stream media from your Emby server to client devices.
Emby (like the other applications on this list) is exceptional in this regard, however, these other features will be beneficial for many users as well.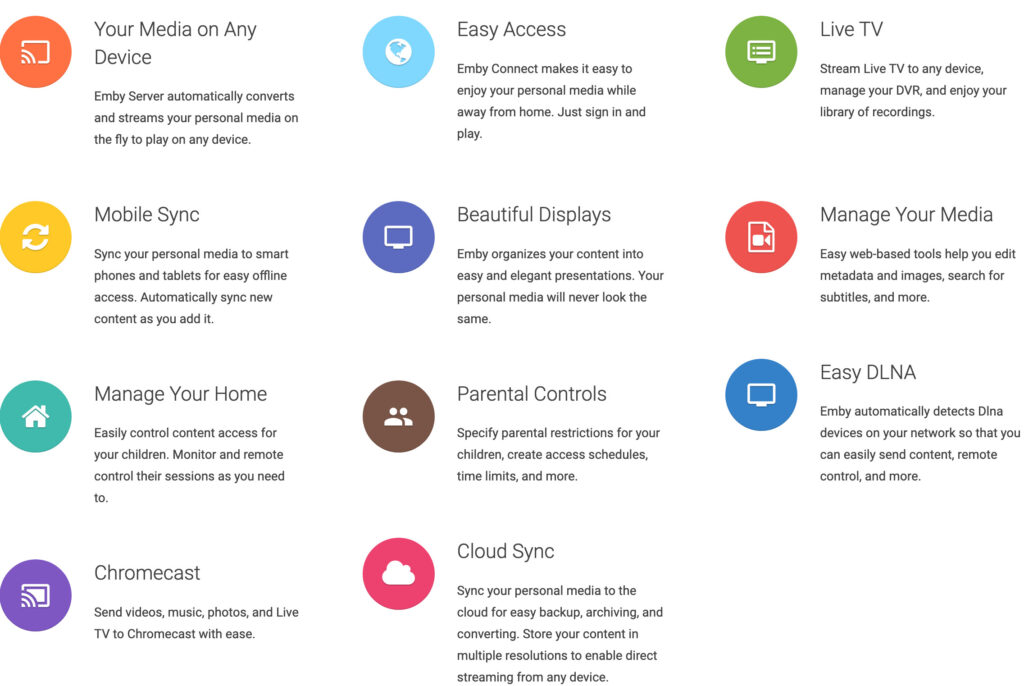 Unlike Jellyfin, Emby has Emby Premiere which offers many additional features. Jellyfin supports some of these features (like hardware transcoding), but if you're looking for a niche product offering, there's a chance that Emby offers it and Jellyfin doesn't. However, that offering may involve a fee.
User Interface: Jellyfin vs. Emby
When looking at the user interface for Jellyfin vs. Emby, they're practically the same since Jellyfin is a fork of Emby (at an earlier point in its life).
Jellyfin User Interface

Emby User Interface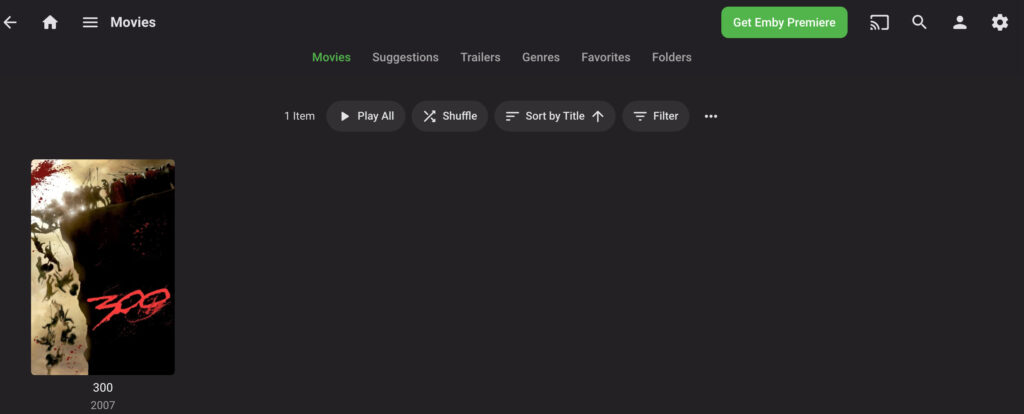 Overall, they're similar enough that you won't notice a significant difference when using both. Please keep in mind that Emby does offer additional features (Emby Premiere) and certain things are named differently, but the overall user interface is very, very similar.
Final Thoughts: Jellyfin vs. Emby
This article looked at Jellyfin vs. Emby to determine the best option for most users. The core functionality of Jellyfin and Emby are extremely similar (they even look similar), however, these are some of the biggest differences between both applications.
The biggest benefit that Jellyfin offers is that it's free and open-source. While Emby does have a free tier, to unlock all features, Emby Premiere must be purchased.
If you're someone who doesn't want to experiment with Docker, it's significantly easier to set up Emby (on some devices, at least). If you're willing to use Docker, you should at least try out Jellyfin and see if it fits your requirements as it's free and minimal. If it does, you can (and probably should) still explore Emby, but at least you'll know that you can use a free option if required.
Overall, I tend to think that Jellyfin is the better overall product offering, but it's because the features that Emby Premiere offers aren't features that I'd use (outside of hardware transcoding which Jellyfin does for free). Quite simply, if you want to use specific features in Emby Premiere, go for it, but everyone else will probably be better off with Jellyfin.
Thanks for checking out the article on Jellyfin vs. Emby. If you have any questions on Jellyfin vs. Emby, please leave them in the comments!