In this article, we're going to look at TrueNAS Scale vs. Proxmox to determine the differences between both operating systems.
Before we get started, both, TrueNAS Scale and Proxmox can perform similar functions, however, they are entirely different. The main differences will be highlighted below, but before we get started, I want to be clear that depending on your needs, one will be clearly better than the other.
TrueNAS Scale vs. Proxmox
Before we look at TrueNAS Scale vs. Proxmox, let's look at exactly what TrueNAS Scale and Proxmox are.
What is TrueNAS Scale?
TrueNAS Scale runs the OpenZFS file system and is the latest operating system created by iXsystems. TrueNAS Scale is very similar to TrueNAS Core, but it's built on Debian-Linux as opposed to FreeBSD. TrueNAS Scale provides HCI (Hyper-Converged Infrastructure) which allows you to create VMs and Linux containers. TrueNAS Scale also gives you a ton of options for scalability that TrueNAS Core doesn't.
While TrueNAS Scale offers a bunch of benefits, the biggest downside is that it's new. While TrueNAS Core was released in 2005 and has been a trusted NAS operating system for many years, TrueNAS Scale was released in 2022 and is extremely new. That's not necessarily a bad thing, but if longevity or reliability is a concern, TrueNAS Core is better in both areas.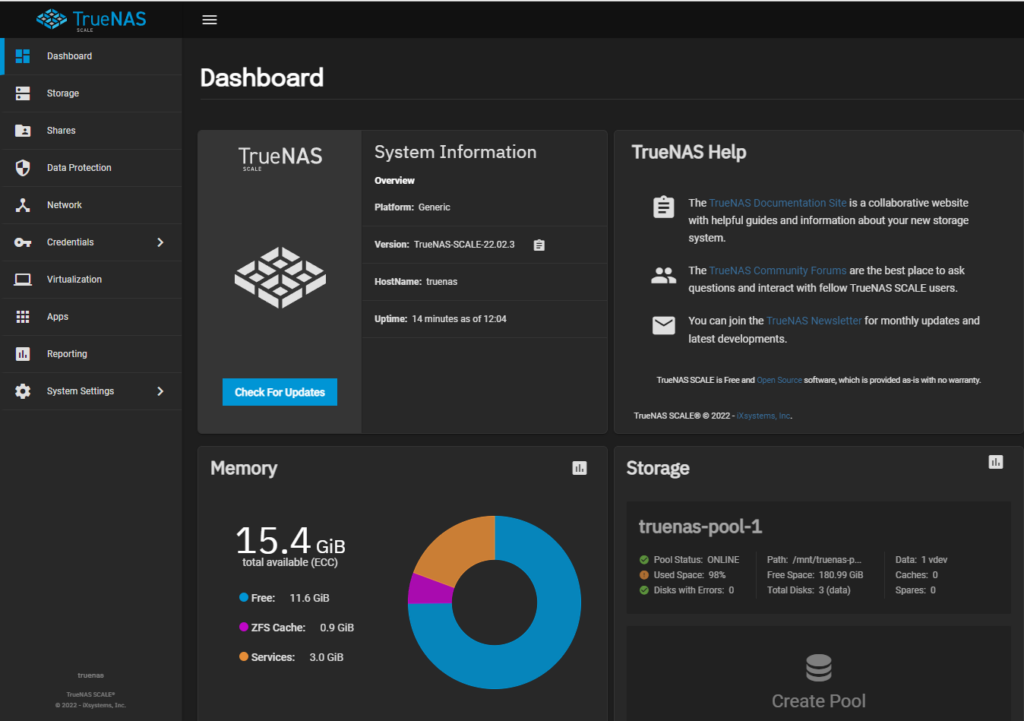 What is Proxmox?
Proxmox is a virtual environment (VE) that is a type-1 hypervisor that is based on Debian GNU/Linux. Proxmox allows you to create virtual machines (VMs) and LXC containers. From a pure usability standpoint, Proxmox is a hypervisor and is not a NAS operating system. However, while Proxmox isn't a traditional NAS, you can virtualize a NAS operating system like TrueNAS or Unraid on it.
Proxmox VE is free and open-source, however, for enterprise support, you must purchase a license. While enterprise support is a paid feature, most users (in home environments) run Proxmox entirely free and don't run into any issues with support.

TrueNAS Scale vs. Proxmox – Virtual Machines
While Proxmox and TrueNAS Scale can both run virtual machines, Proxmox is a hypervisor and TrueNAS Scale is a NAS operating system. For that reason alone, Proxmox is better in almost every way in terms of creating and running virtual machines. TrueNAS Scale will allow you to run VMs, however, Proxmox has the ability to create clusters for high-availability (HA), has a full backup server OS, allows you to create LXC containers, and is an enterprise-grade hypervisor.
One huge benefit of Proxmox is that you can run TrueNAS as a VM. There are different ways to set up a NAS operating system on Proxmox, so if you take this route, I urge you to look into best practices. However, in my experience, TrueNAS has run extremely well as a Proxmox VM and gives you the benefit of having a great hypervisor and great NAS capabilities. Running Proxmox on TrueNAS Scale is not possible, however.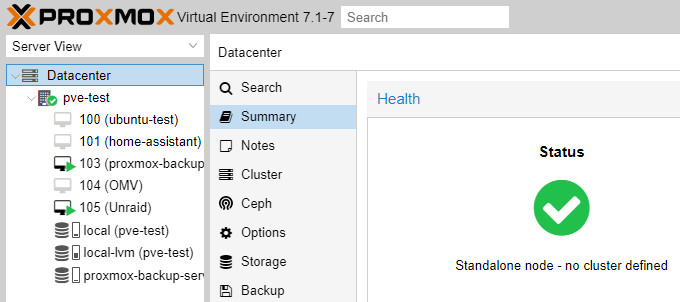 TrueNAS Scale vs. Proxmox – Network-Attached Storage Device
As mentioned above, TrueNAS Scale is a Network-Attached Storage (NAS) operating system. While Proxmox will allow you to install a NAS OS as a virtual machine, everything must be done inside of that NAS VM. TrueNAS Scale will allow you to pick the best file system based on your needs, create shares that can be accessed by SMB or NFS, set up granular permissions, and much more.
The main difference between the two goes back to the point that TrueNAS Scale is a NAS operating system, and for that reason, you have tons of different configuration options. While you can install a TrueNAS VM on Proxmox, the Proxmox operating system doesn't offer any of these capabilities.
Proxmox vs. Unraid – Services
One of the benefits of TrueNAS Scale is that there are a ton of different applications that you can use that can be easily installed inside of the apps section. You also have the ability to create docker containers which gives you a ton of different application options and flexibility. These applications are installed directly on the TrueNAS operating system which makes the creation and maintenance of these applications incredibly easy.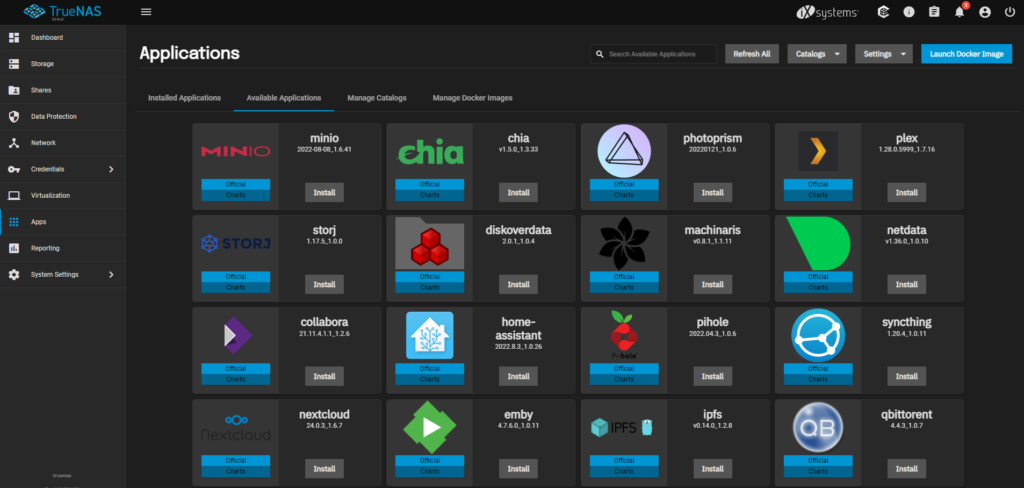 While you can run the same type of apps on Proxmox, you'll be forced to create a VM that will hold all of your services or an LXC container. This goes for any services that you'd like to run including docker. Installing TrueNAS Scale (or Core) on Proxmox will give you access to the same services, but it's an entirely different infrastructure setup (TrueNAS Scale on bare-metal or Proxmox on bare-metal).
Conclusion: TrueNAS Scale vs. Proxmox
After looking at some of the common differences between TrueNAS Scale and Proxmox, there's really one conclusion that can be drawn. If you're looking to use your server as a NAS device first, you should install TrueNAS Scale. If you're looking to create multiple virtual machines and don't mind virtualizing your NAS OS (or have a separate device that you're using as a NAS), Proxmox is a great solution.
One final point to consider is the ease of use. To beginners, TrueNAS Scale can be slightly confusing and since it's new, there's not as much documentation today as there will be in the future.
Proxmox has a great community and as time has gone on, there are tons and tons of articles and tutorials that will help you configure different things. Also, since most applications are configured as a VM or LXC Container, learning how to do that will open up tons of possibilities.
Thanks for checking out the article on TrueNAS Scale vs. Proxmox. if you have any questions on TrueNAS Scale vs. Proxmox, please leave them in the comments!