In this article, we will look at the best 2.5Gb Switches that you can use. The options below are my personal favorites from various price points that I think most people will be happy with. There are tons of other options that you can use and I don't want to act like these are the only options you can use. However, these devices will fulfill the requirements for most users.
The links below are Amazon affiliate links which means that I earn a percentage of each sale at no cost to you. Thank you for your support.
Why Should You Upgrade to 2.5GbE?
For years, 1GbE networking has been the most popular option, automatically built into motherboards, Switches, Routers, and just about any device that needed networking. In enterprise environments, 10GbE was the most common option, so the natural thought was that 1GbE would naturally progress to 10GbE.
The problem is that most homes and small businesses in the past twenty or so years (that have hard-wired networking) were wired with Cat 5e cables. Cat 5e is not rated for 10GbE speeds. For this reason, you were stuck to 1GbE networking speeds…until 2.5GbE came around. For this reason, it is a natural progression from 1GbE.
2.5 Gigabit networking allows you to get 2.5x higher speeds than 1 Gigabit networking. Not only that, you'll also have the benefit of being able to use your existing Cat 5e cables and not having to upgrade to Cat 6 and you'll see all of the speed increases.
2.5Gb NICs are also being built into modern routers, access points, and just about everything in between, so this is now a natural progression for users who always had 1GbE. With that said, to utilize these enhanced speeds, your networking must support it as well.
If you're using 2.5 Gigabit, you'll max out around 312MB/s of transfer speeds, whereas 1 Gigabit is limited to around 125MB/s. When you take into consideration that the wiring that exists doesn't have to be updated, this is a quick and easy way to get increased throughput to your devices.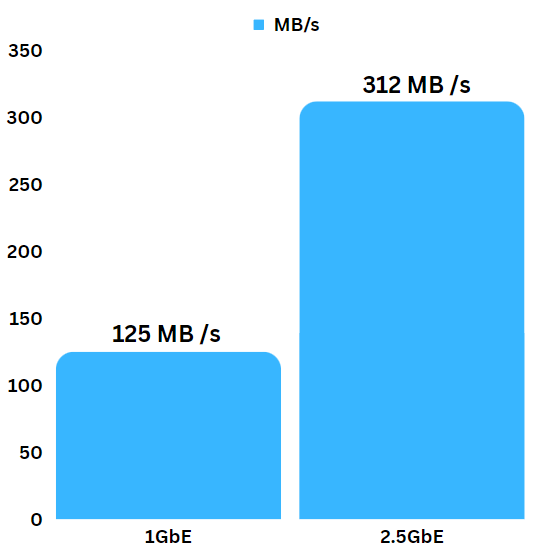 Managed and Unmanaged Switch Differences
We'll first take a look at the differences between Managed and Unmanaged Switches before looking at some of the best 2.5GbE Switches.
Managed Switches (like the UniFi Controller) will allow you to configure additional features, while Unmanaged Switches are plug-and-play (with no fancy features).
Management interfaces can be extremely helpful – from limiting specific ports to an individual VLAN, flat-out disabling ports, or just for testing and validation, the interface can be extremely beneficial.
Keep in mind that outside of the port-specific changes on the Switch, a lot of this can be done with a Layer-3 Switch that's the "primary" Switch, or even at the firewall level (using something like pfSense).

With that said, they're not necessary in a lot of cases, so for many, they'll be a "nice to have" more than a necessity.
Before we get started, if you purchase one of the devices below and have a device that doesn't have a 2.5GbE port, you can possibly (depending on the device) add one of these cheap 2.5GbE PCIe network adapters to benefit from the increased speeds!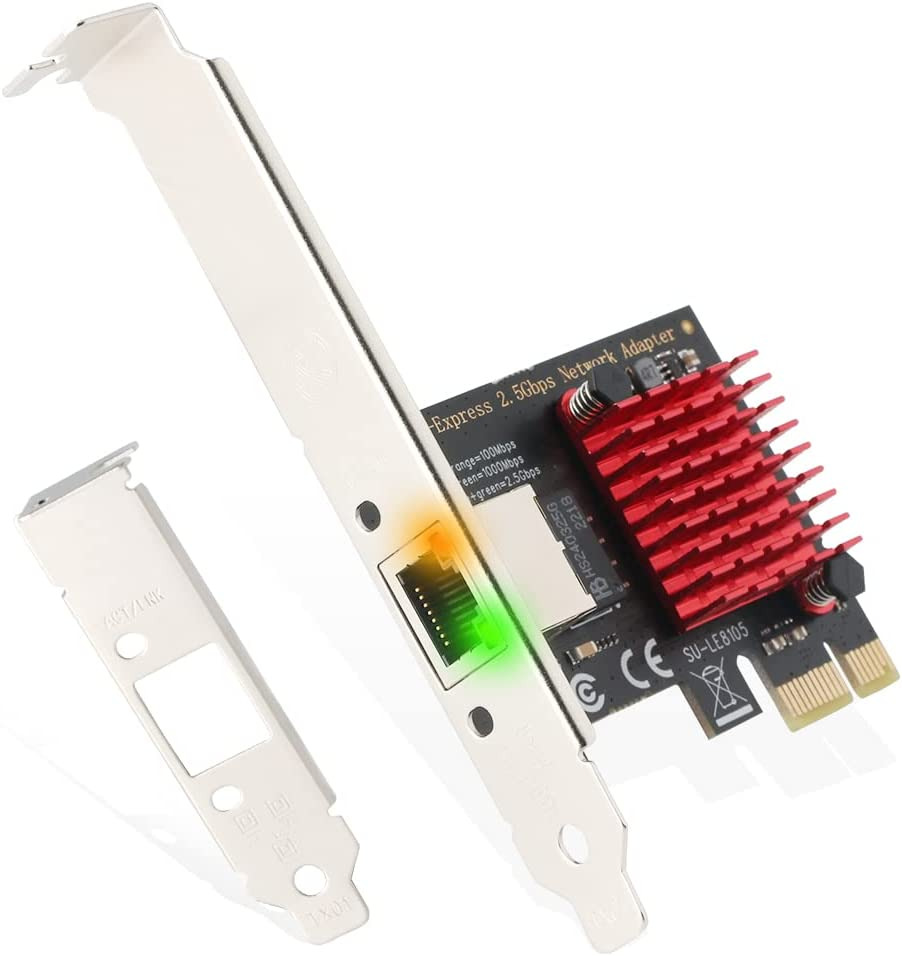 Is 2.5Gb a Better Option than 10Gb?
For most users who are deciding on upgrading their networking, the natural progression after 1GbE is either 2.5Gb or 10Gb. 2.5 Gigabit is becoming a lot more mainstream than it used to be, which means that it's a natural progression for a lot of people. Desktop PCs are starting to come with it rather than 1GbE, which means that you might not even need additional hardware.
Overall, 10GbE networking is a more advanced process as you need 10GbE NICs, you need to purchase 10GbE Switches, and at minimum, Cat 6a cables (if you aren't running SFP+ cables). This is not only more expensive, but there's a chance that you need to upgrade the entire flow, from device, to Switch, and even the cable in between.
Compare that to 2.5 Gigabit, where you might be able to simply purchase a new Switch and have increased networking speeds, and it's simply a better overall option for many people than 10Gb (mainly from a price perspective).
Best 2.5GB Switches for Home and Business Use
We will look at unmanaged and managed options below to help you pick the best device for your usage.
Unmanaged Switches
The Switches below are some of the best 2.5GbE Switches you can purchase, in my opinion, and from my initial testing. The downside is they don't have a management interface, but truthfully, if you aren't looking to do anything fancy and just want 2.5Gb networking, these are great options.
TP-Link TL-SG108-M2

The TP-Link TL-SG108-M2 supports Multi-Gig, meaning you can use 1GbE devices as well. It comes with eight total 2.5 Gb ports and can be mounted on a wall if desired.
From a price and functionality perspective, the TP-Link TL-SG108-M2 is one of the best Switches you can purchase.
Click here to purchase the TP-Link TL-SG108-M2 on Amazon
PROS
Eight total 2.5GbE Ports
Wall Mountable
Extremely Budget-Friendly
CONS
No 10GbE Ports
No PoE/SFP+ Ports
TRENDnet TEG-S350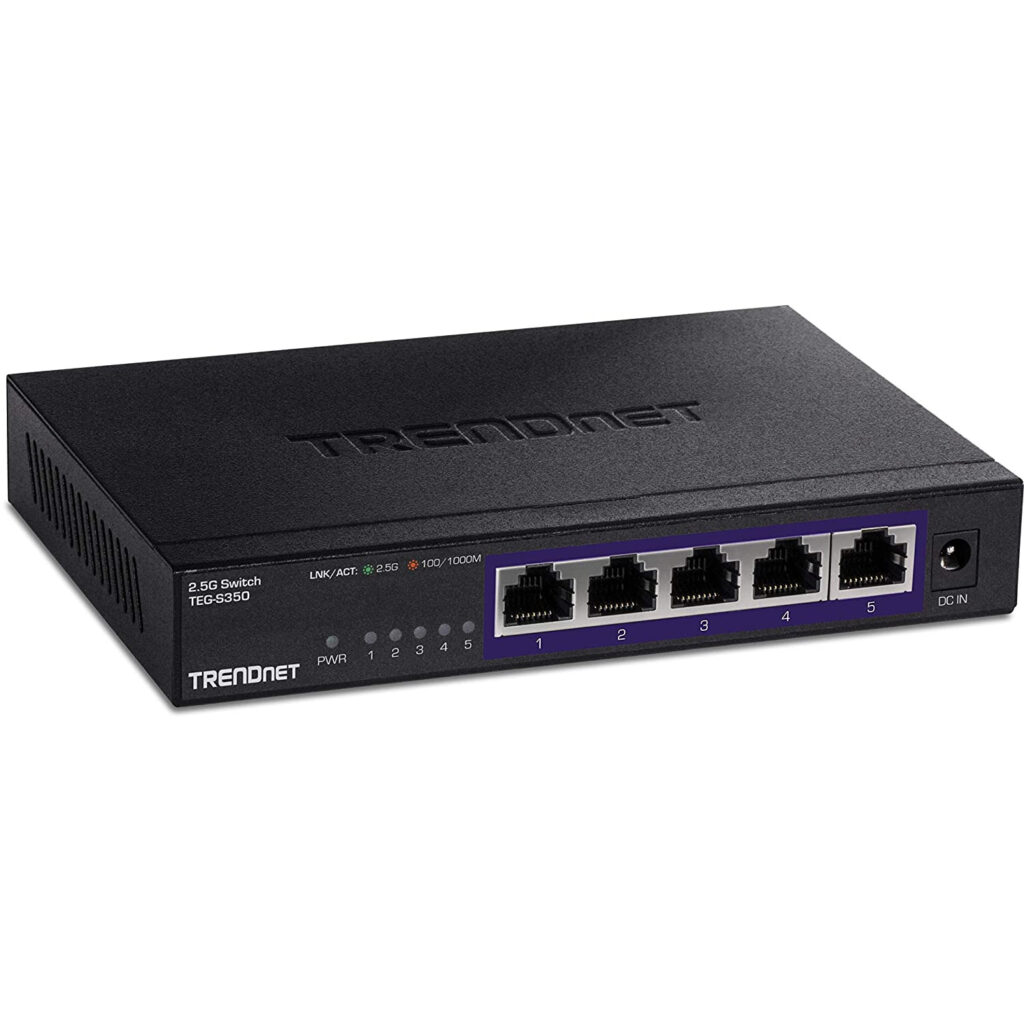 The TRENDnet TEG-S350 is a 5-port Switch that is wall mountable and backward compatible with 10/100/1000 Mbps devices.
If you want a Switch, only need five ports, and do not need any of the additional configurations (VLANs, etc), this is the one!
Click here to purchase the TRENDnet TEG-S350 on Amazon
PROS
Wall Mountable
Multi-Gig:
2.5Gb & 1000/100/10 Mbps
CONS
Only Five 2.5GbE Ports is Limiting
No PoE/SFP+ Ports
D-Link DMS-106XT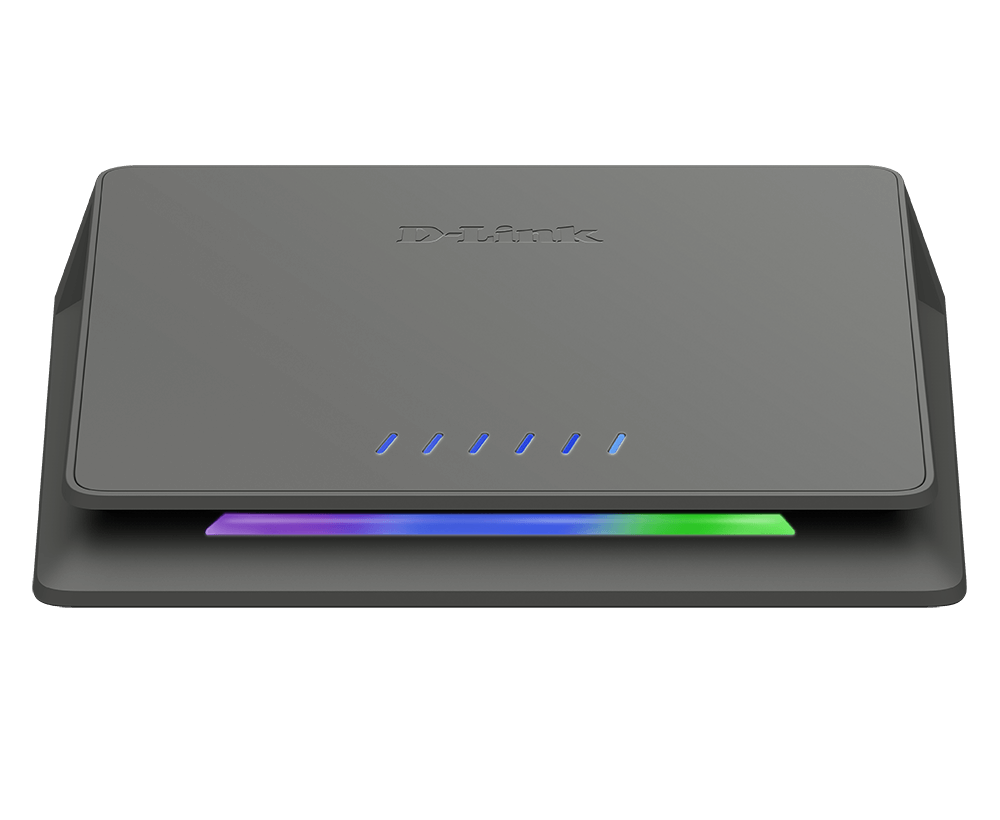 The D-Link DMS-106XT is a 6-port Switch advertised as a gaming Switch. I urge you to ignore the branding, as this Switch is actually extremely powerful.
Not only does it have five 2.5GbE ports, but it also has one 10GbE port which can be useful if you have something like a NAS device that supports 10GbE as well. There are a bunch of "gaming" features, like LED lights, but the core functionality of this Switch is great.
Click here to purchase the D-Link DMS-106XT on Amazon
PROS
One 10GbE Port that can be used to increase throughput to one device.
Gaming Features (if you desire that)
CONS
Only Five 2.5GbE Ports
No PoE/SFP+ Ports
Gaming Features Might be a Downside
TRENDnet TEG-S380

The TRENDnet TEG-S380 is the same exact device as the TRENDnet TEG-S350, but it comes with 8 ports instead of 5 ports. It's backward compatible with 10/100/1000Mbps devices. As long as you don't need any of the benefits that Managed devices provide, this is a great, reasonably priced option.
Click here to purchase the TRENDnet TEG-S380 on Amazon
PROS
Eight total 2.5Gb Ports should be more than enough for most users.
Multi-Gig Support:
2.5Gb & 1000/100/10 Mbps
CONS
2 x 10GbE limits future expandability
No PoE/SFP+ Ports
QNAP QSW-2104-2T-US

The QNAP QSW-2104-2T-US is a 6-port Switch that has four 2.5GbE ports and two 10GbE ports. This is an interesting device, as it sits in between something like the TRENDnet TEG-S350 and the Zyxel XGS1210-12 below.
If you need 10GbE ports but also need more than two 2.5 Gb ports, this is a great option. However, if you only need two ports, I'd suggest checking out the Zyxel XGS1210-12 below.
Click here to purchase the QNAP QSW-2104-2T-US on Amazon
PROS
Two 10GbE Ports is Extremely Beneficial for users with servers or who simply want increased throughput.
CONS
Four 2.5Gb Ports total is limiting.
No PoE/SFP+ Ports
TP-Link TL-SX1008

The TP-Link TL-SX1008 is a layer two Switch that is a great option if you're looking to mix devices with different NIC speeds. It contains eight total 10GbE (Multi-Gig) ports that can be used, but they're all Multi-Gig, meaning they support 1Gb to 10Gb (and everything in between).
This is a great option if you have multiple devices that require 2.5 Gigabit, but also have 5 Gigabit or 10 Gigabit devices as well, as this device can utilize those devices at their native speeds.
Click here to purchase the TP-Link TL-SX1008 on Amazon
PROS
Eight total Multi-Gig Ports (up to 10GbE) provide extreme flexibility:
10Gb/2.5Gb/5Gb/1Gb/100Mbps
CONS
Expensive if you only need 2.5GbE and don't want to future-proof.
Managed Switches
There are a ton of options, but not that many for a reasonable price that supports 2.5GbE. I like the Switch below a lot and think that it will fit a lot of different use cases – I just wish it had a few more 2.5GbE ports.
Zyxel XGS1210-12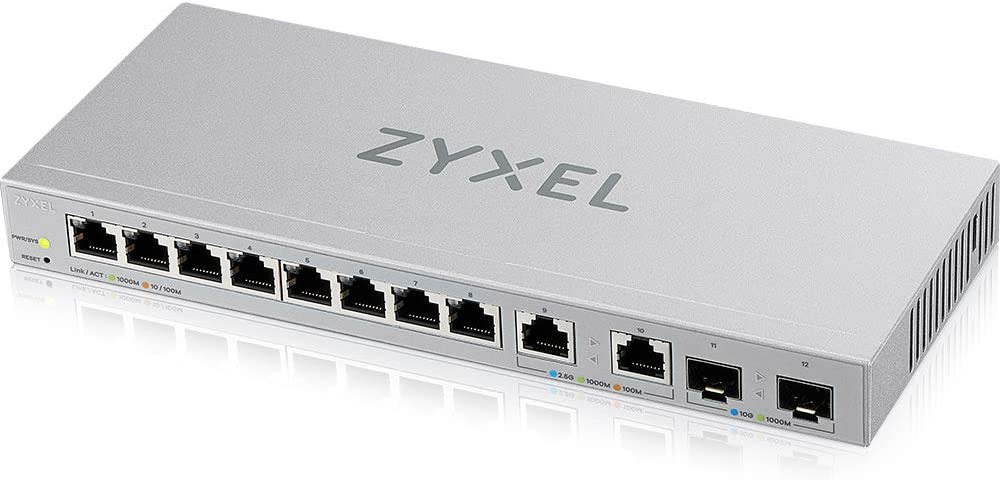 The Zyxel XGS1210-12 is an interesting Switch, as it has 10 ports, but only two of them are 2.5Gb. There are eight total 1GbE ports, two 2.5GbE ports, and two 10GbE SFP+ ports.
The benefit of this device is its web interface, which means that you can create VLANs, set up Link Aggregation, and more. If you only need two 2.5 Gigabit ports and also require two 10GbE SFP+ ports, this is a great option.
Click here to purchase the Zyxel XGS1210-12 on Amazon
PROS
Two 10GbE SFP+ Ports can be helpful if you need to use SFP+.
Managed (VLANs, Link Aggregation, etc.)
CONS
Only two 2.5GbE Ports is extremely limiting.
Eight 1GbE Ports that should be 2.5GbE if your goal is a 2.5Gb network.
Conclusion & Final Thoughts
As mentioned above, these are my personal favorites in terms of the best 2.5Gb Switches that I think you can use based on certain tests run on each device.
In general, 2.5Gb Switches aren't exactly easy to come across and there isn't a huge variety – plus, if the goal is to simply have upgraded networking speeds, all options above will technically handle that. There are enterprise-grade Switches (Unifi has one) that are designed to offer enterprise-grade features, but as of right now, 2.5 Gig isn't really standard on most devices so the benefit of them is minimized.
Thanks for checking out the article on the best 2.5Gb Switches. If you have any questions, please leave them in the comments!