In this article, we're going to compare Tailscale vs. ZeroTier to determine which VPN solution is best.
When you're configuring your home or business network, you might be interested in configuring a VPN for remote access. Free offerings in this space are VPN servers like OpenVPN and WireGuard, though they each require a detailed setup process and port forwarding.
This can be a hindrance to new users, or there can even be technical limitations like the inability to port forward which doesn't allow for any traditional VPN configuration.
This is where Tailscale and ZeroTier are kings. Both tools are known to resolve similar problems but in their unique ways, and offer users the ability to configure fully functional VPNs with limited setup processes.
In this blog post, we will look deeper into Tailscale vs. ZeroTier to understand their functionalities and differences with the goal of determining which one offers the best solution for your specific needs.
What is Tailscale?
Tailscale is a zero-configuration VPN solution that uses WireGuard, an open-source VPN protocol. It focuses on providing an easy-to-use and configure management interface for the WireGuard protocol.
Tailscale is different than WireGuard in many ways, but it's a better comparison to ZeroTier than WireGuard due to the way that it's set up and configured, as well as its functionality. 
Tailscale is designed to build automatic, encrypted, and authenticated connections between any two systems running the Tailscale software, even if they're located behind NAT (Network Address Translation) or in different parts of the world. It also requires no form of port forwarding.
One of the benefits of Tailscale is its ease of use. It simplifies the process of managing keys and configurations by using a central server that provides IP addresses to clients and handles traffic. This server also manages the creation and distribution of keys which maintains security and allows for various types of advanced configurations.

While the server is aware of the IP addresses that your devices are given, it does not have access to the keys used to encrypt the direct connections between devices. This ensures privacy and security for all client devices.
There are various devices that you can install Tailsacle on, so check out some of our tutorials if you're interested in configuring it!
What is ZeroTier?
ZeroTier is a software-defined networking application that allows devices to be connected over a global network with minimal setup and configuration. It's designed to function similarly to a local area network (LAN) environment, making it seem like all devices are connected to the same network even if they are physically located in different parts of the world.
Unlike Tailscale, ZeroTier uses its own protocol, built on top of User Datagram Protocol (UDP), which is designed to establish direct device-to-device communication, regardless of the network configuration or location of the devices. This works by using a method called NAT traversal, which allows a device behind a NAT (Network Address Translation) router to be directly reached from outside of the local network.
One of the unique features of ZeroTier is that it can establish "private networks," which are basically invitation-only networks where the network's controller node (managed by an admin) has to approve each device before it can join. This creates an added layer of security to an already user-friendly way of setup and configuration. 
Tailscale vs. ZeroTier: Side-by-Side Comparison
Now that we understand the basics of Tailscale and ZeroTier, let's move on to some of the major differences between both.
Protocol and Functionality
While Tailscale and ZeroTier both create secure networks over the internet, they do so with different protocols. Tailscale uses the WireGuard protocol, which is designed to be simple, easy to audit, and highly efficient (it's also open-source). Alternatively, ZeroTier uses its own protocol, which creates more flexibility in its transport layer, allowing for a broader range of connection options.
In terms of functionality, both tools have the same goal of simplicity and succeed at doing that, though with different approaches. Tailscale provides ease of use by centralizing the management of keys and configurations (which if you've used WireGuard, you know can get confusing), while ZeroTier provides the option to set up private root servers.
Data Security and Encryption
From a security standpoint, you shouldn't pick one over the other. Tailscale and ZeroTier use strong encryption and have undergone rigorous code review processes to ensure secure communication between devices.
To be entirely clear, each tool cannot decrypt the data that is transmitted between clients, which provides data privacy and security, and minimizes the overall threat surface. 
It's important to understand that these tools do their best to minimize threats, but an added risk that doesn't exist with traditional VPN setups like OpenVPN or WireGuard is with the overall management interface, as well as unauthorized node/machine additions.
Remember, both tools are managed through a website that requires login credentials, and any unauthorized access to this management interface can give bad actors access to your networked devices. This, along with unauthorized node additions can lead to potential security exploits, though certain features (like two-factor authentication) can limit some of these concerns. 
Performance and Functionality
From a performance perspective, Tailscale and ZeroTier are both great and won't provide better performance outside of very specific scenarios. One of those specific scenarios is around devices that are on the same subnet (where ZeroTier will perform better than Tailscale), but once again, the difference is going to be minimal in practical usage. 
Tailscale and ZeroTier both provide a static IP address for each device, even when the public IP address or geographical location changes. This ensures that both devices will maintain a stable and reliable connection, making them great options in many different scenarios.
Pricing
From a pricing perspective, Tailscale and Zerotier are fairly different. As of the writing of this article, Tailscale provides a free tier that gives up to three users permission to 100 total devices. If you're interested in having more users or devices, you'll have to upgrade to a higher plan.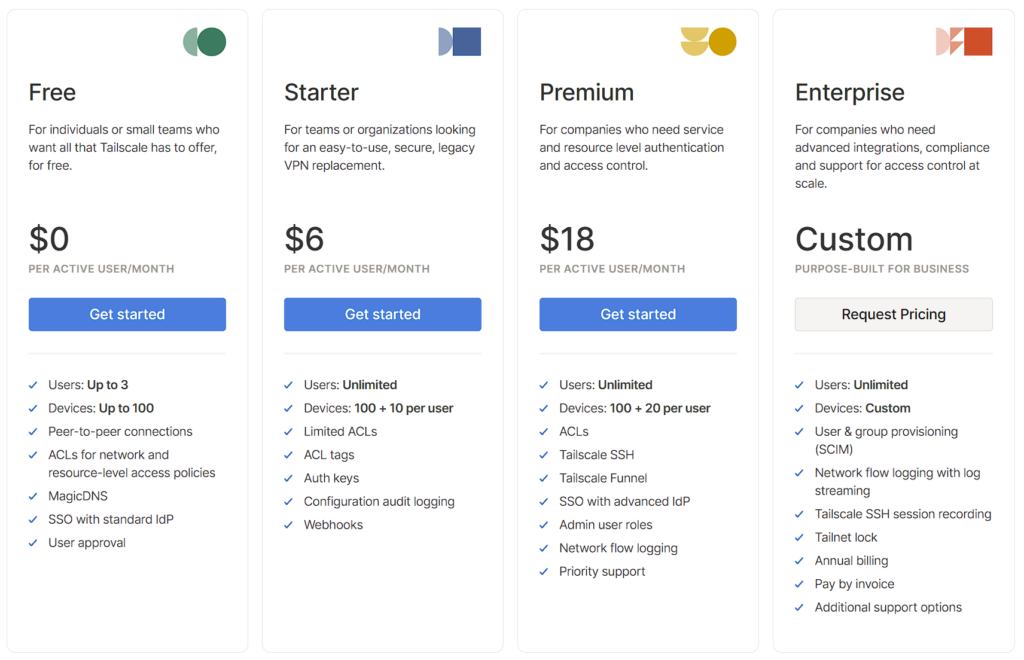 For ZeroTier, the free pricing (Basic tier) allows for one total administrator and up to 25 nodes (devices). If you need more users or nodes, you'll have to upgrade to one of their higher plans.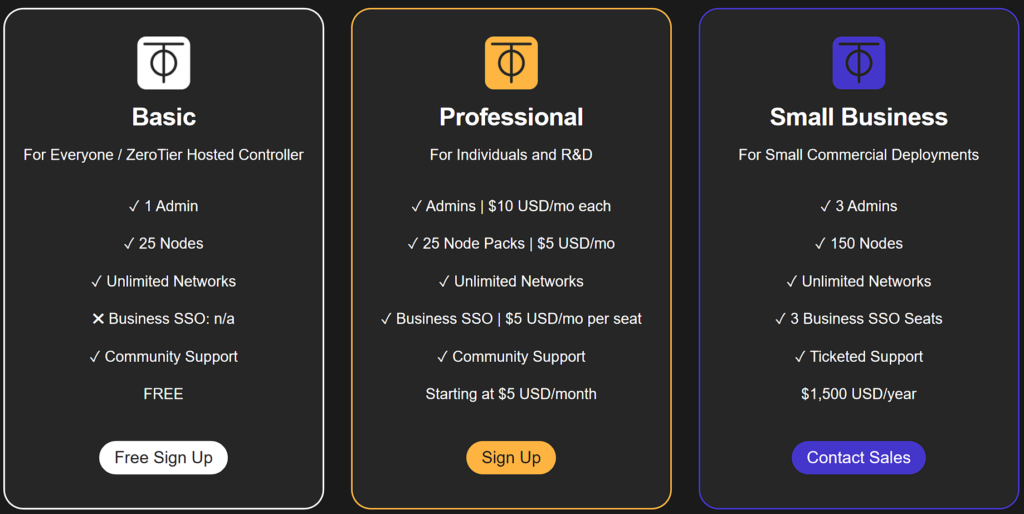 Please remember that this pricing is subject to change and is only relevant as of the writing of this article.
Final Thoughts and Recommendations
While both tools demonstrated excellent performance, ZeroTier will perform slightly better than Tailscale in scenarios where devices are on the same subnet. Outside of this, both systems offer similar performance and security.
From a pure ease-of-use perspective, I believe that Tailscale is slightly easier to use than ZeroTier due to the way their management console functions. However, this is partially personal preference as ZeroTier isn't necessarily hard to use. 
The setup process, while similar, is certainly different, and some of the language used (nodes versus machines, etc) will be different, though they both will allow users to create a VPN network, accessible anywhere in the world, with no port forwarding and minimal configuration.
As mentioned above, when comparing them to traditional VPNs like OpenVPN or WireGuard, ZeroTier and Tailscale both offer easier setup processes and similar functionality.
Conclusion: ZeroTier vs. Tailscale
This article looked at Tailscale vs. ZeroTier to determine which no-configuration VPN service is best. It's very difficult to crown a winner because they're both similar, but in my opinion, I've found Tailscale to be easier to use. I do like the way that Zerotier allows you to set up a "LAN" network in the cloud, but it doesn't necessarily function better or worse than Tailscales does – it's just different.
Both, Tailscale and ZeroTier's biggest selling point is their overall ease of use. Another important point to remember is that for some users, port forwarding isn't an option, so using a tool like Tailscale or ZeroTier is their only option. You also simply might prefer using a tool that doesn't require port forwarding, and you can't go wrong with either. 
If you're interested in implementing Tailscale on any devices, please check out some of our tutorials! Thanks for checking out the article on Tailscale vs. ZeroTier. If you have any questions on ZeroTier vs. Tailscale, please leave them in the comments!