In this article, we're going to look at the TerraMaster F4-423 and review the device.
The TerraMaster F4-423 is one of the most powerful NAS devices that you can purchase in 2022. We're first going to look at the hardware, then take a look at the software and some of the applications that you can run to fully utilize this powerful device.
The links below are Amazon affiliate links which means that I earn a percentage of each sale at no cost to you. Thank you for your support.
TerraMaster F4-423 Review
We will look at the TerraMaster F4-423 below from a hardware and software perspective.
TerraMaster F4-423 Hardware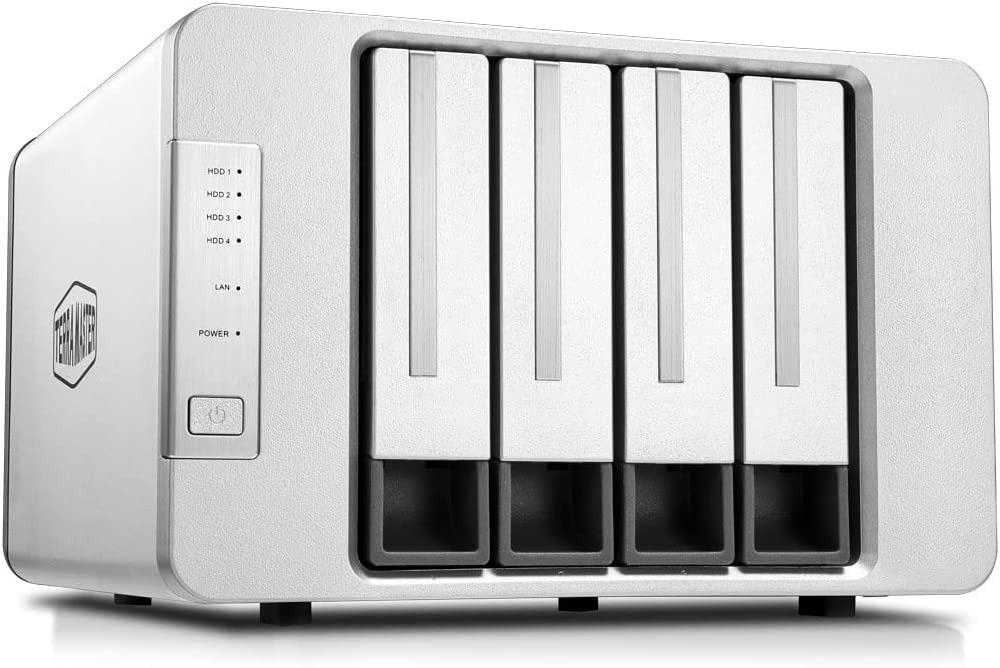 The TerraMaster F4-423 comes standard with four drive-bays, an Intel Celeron N5105 Processor, and 4GB of memory that is upgradable to a total of 32GB. From my personal experience, this is one of the most powerful consumer NAS devices that you can purchase and it shows when you're using the device. The hardware might not sound like a big deal at first, but if you compare it to the most recent NAS devices from other reputable brands, you'll see that the TerraMaster F4-423 has the most powerful hardware at this price point.
Another point that's important to make is that the F4-423 comes with two, 2.5GbE network interfaces. In my opinion, 2.5GbE should be the minimum in 2022, but when comparing it to other reputable NAS manufacturers, you'll see that a lot of devices will still come with 1GbE. I want to be clear that your other devices must support 2.5GbE as well to see the full benefit of the increased throughput, but it doesn't hurt you in any way, it can only help, so I'm happy to see that both NICs are 2.5GbE.
The TerraMaster F4-423 also has an M.2 2280 NVMe SSD slot built-in that can be used for SSD cache.
Conclusion: TerraMaster F4-423 Hardware
This is the most powerful four-bay NAS device that I've ever used or tested. The Intel Celeron N5105 is not only an exceptionally powerful NAS processor but also supports AES-NI encryption and has intel-embedded graphics. This is an incredibly important point because if you'd like to use something like hardware transcoding for videos (Plex, Emby, Jellyfin, etc.), the processor must support it, and fortunately, the F4-423's processor does.
From a memory perspective, 4GB will be more than enough for most NAS users, but the ability to increase that to 32GB is incredibly beneficial. The NICs being 2.5GbE standard allows you to transfer at potentially 2.5x the speed of other NAS manufacturers, and with the ability to configure link aggregation, you will have a lot of flexibility.
I really can't say anything more about the hardware. From a pure value perspective compared to the competition, it's remarkable.
TerraMaster F4-423 Software
The TerraMaster F4-423 runs the TOS 5.0 operating system which was recently released and is incredibly powerful (especially compared to TOS 4.0). If you're running TOS 4.0 on the TerraMaster F4-423, I highly suggest that you upgrade to TOS 5.0.
I'd also suggest that you check out my guide on how to set up a TerraMaster NAS to ensure you're configuring your new NAS device properly, using best practices.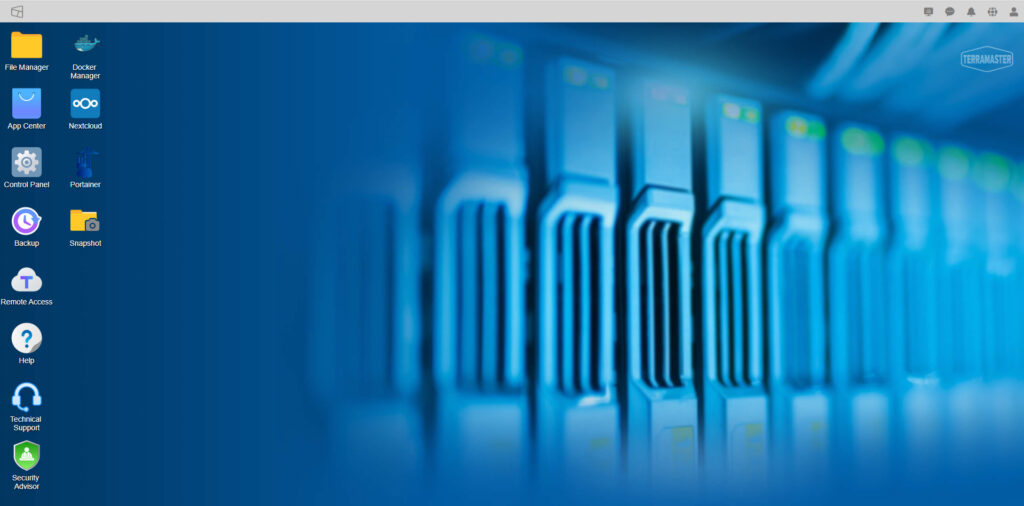 Depending on how you set up your F4-423, you can use RAID 0, 1, 5, 6, or 10. More importantly, the TerraMaster F4-423 supports the BTRFS filesystem (Ext4 as well). There are many benefits of BTRFS, but the main two are that the filesystem is self-healing (protects against bit-rot) and that it has the ability to take snapshots. Setting up a storage pool and volume is very user-friendly as it's part of the initial setup process in TOS 5.0.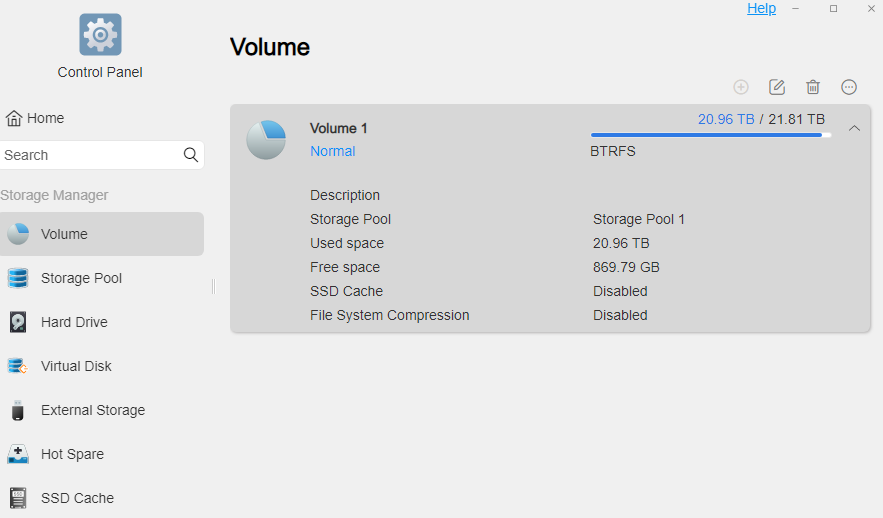 Snapshots must be configured, but after they are, will allow you to roll back to a point in time and can be configured for the entire file system or individual shared folders. Snapshots can protect against data loss and even cybersecurity threats like ransomware. While snapshots are not backups, they are another tool that you can use to protect against potential data loss.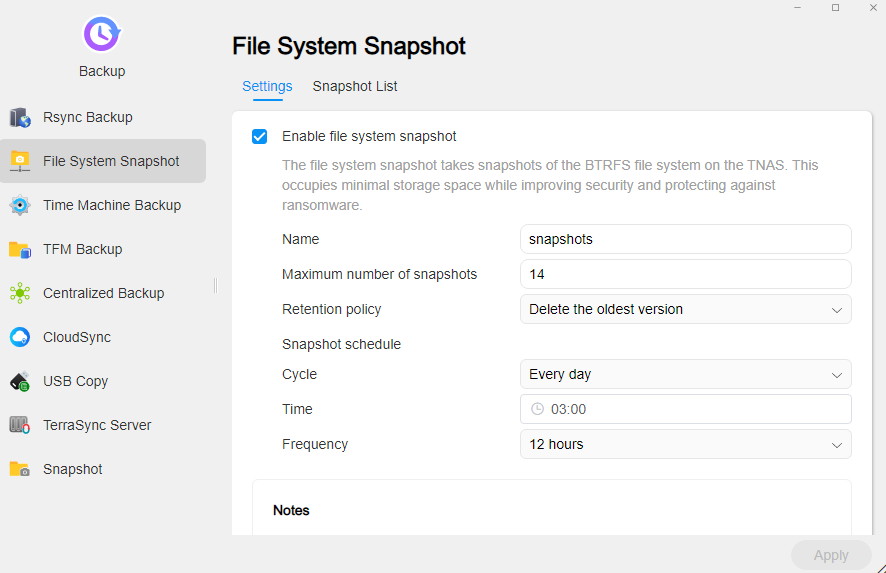 Finally, all of this is not possible without shared folders. Shared folders are the backbone of any NAS device and are what allow you to store data on your NAS. During the creation process of a shared folder, you'll have the ability to set up encryption as well as folder permissions. This will allow you to limit permissions if necessary and ensure that users have access to what they need and nothing more.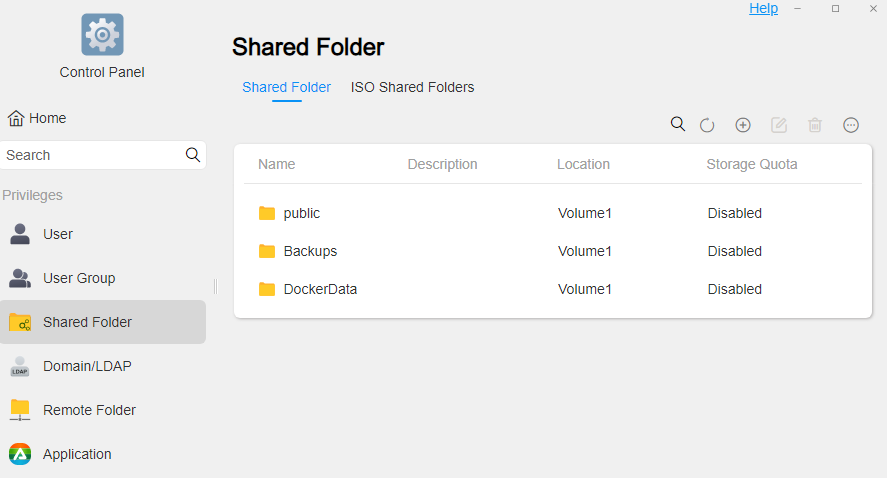 TOS 5.0 Applications
TOS 5.0 has a bunch of different first-party and third-party applications that you can download and install. Since TOS 5.0 was recently released, there are still a bunch of applications that are in beta, but there are also a bunch of awesome third-party tools, with Nextcloud, Docker, and Portainer being some of my favorites.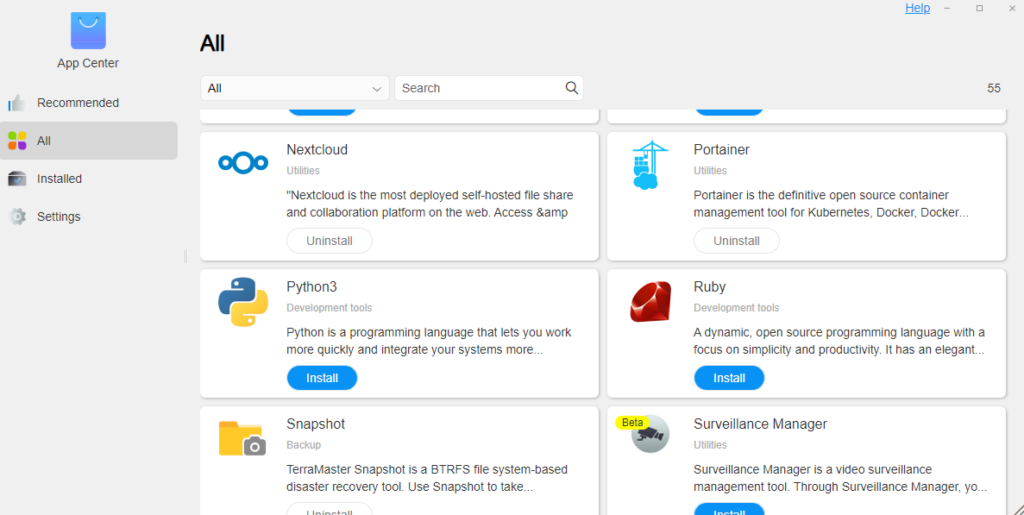 While I love first-party applications, it's nice to sometimes use third-party tools because if you'd ever like to switch hardware devices, those third-party tools can usually be installed on the new device as well. For this reason, I really like that TerraMaster gives customers a plethora of options in their App Center.
While the applications above are great to have and use on a regular basis, I'm extremely happy that TerraMaster gives users a bunch of different ways to set up backups. Backups are the most important part of any NAS device and being able to back up a NAS to the cloud or a secondary NAS device is necessary.
Fortunately, TerraMaster gives users the ability to back up their NAS using a few different tools. If you'd like to back up your NAS locally, rsync is a great option. After setting up rsync, you'll be able to back up your NAS to a local server (or remote server).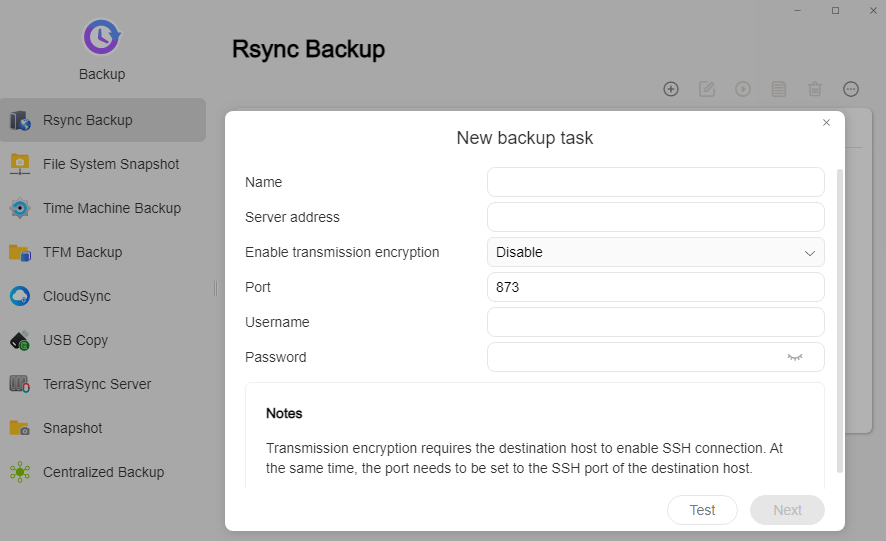 If you'd like to sync data from your NAS to a cloud location, CloudSync will allow you to do exactly that. After configuring CloudSync, you'll be able to sync data from your NAS to any of the cloud destinations below.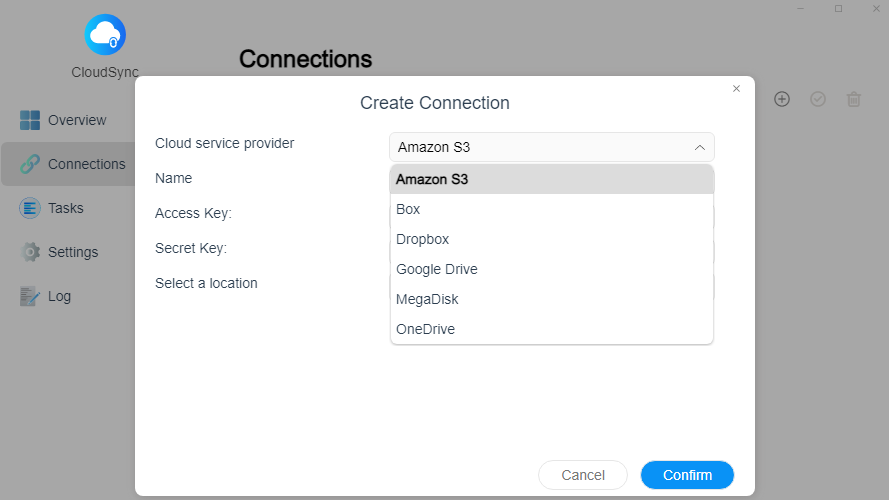 I do want to be clear that CloudSync is a sync application, and if you're looking for a backup tool, I'd highly suggest checking out Duple Backup. Duple Backup is a traditional backup application that will allow you to back up data on your NAS to any of the cloud destinations below (BackBlaze B2 being my favorite).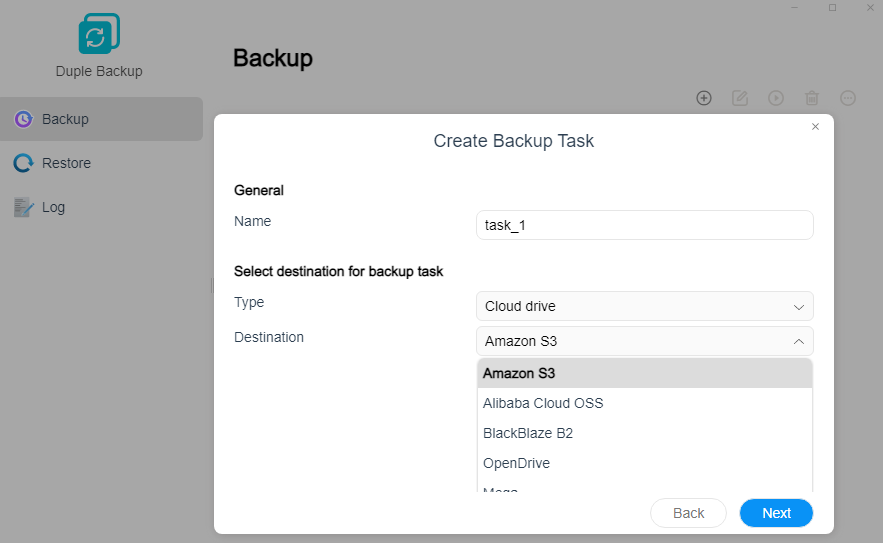 Conclusion: TerraMaster F4-423 Software
TOS 5.0 is becoming an extremely mature operating system and is continually improving from consistent updates. As a TOS 5.0 user, it's easy to tell that the TerraMaster developers are working hard to make this a great NAS operating system. Since it is a new OS, you might run into a few hiccups with some of the beta applications, but as time has gone on, the NAS has become more and more stable.
Final Thoughts: TerraMaster F4-423
As mentioned above, the TerraMaster F4-423 is the most powerful consumer NAS device I have ever used. That's not to say that hardware is the only important part of a NAS because to be very clear, it's not. However, I can't let this point go because I've always hated how underpowered certain NAS devices are, but fortunately, the F4-423 isn't one of them. When you spend money on a TerraMaster F4-423, you should be comfortable knowing you're getting some of the best consumer NAS hardware you can buy.
From a software perspective, TOS 5.0 is evolving and has gotten better and better with every update I've received. From a pure NAS perspective, it offers all of the features you'd want. It also has the ability to run first-party applications from TerraMaster, and third-party tools like NextCloud and Docker which really help unleash the power of the hardware. I want to be clear that you might run into a few hiccups with some of the software packages and a lot of them are still in beta, but this is something that I expect will be resolved within the next few months at the latest.
Overall, this is a great NAS device and I'm excited to see TerraMaster continue to grow. If you've already purchased your TerraMaster F4-423, please check out our TOS 5.0 setup guide!