Today we are going to look at the best way to beta test Synology's DSM 7.0 by installing it as a Virtual Machine.
It's known that installing a beta operating system on a production server is never a good idea. However, installing it virtually (vDSM) on your production server is a great way to test it! I use vDSM to test various things for my NAS and this is a great example.
1. Install Instructions
1. You must ensure that your NAS can run DSM virtually. For an updated list of NAS models that support Virtual Machine Manager, check this link.
2. Install Synology's DSM virtually. This tutorial has all the steps required to install DSM virtually. If you only want to install DSM 7.0, follow the instructions in the link and substitute DSM 7.0 for DSM 6.2.3. If you'd like to test both, DSM 6.2.3 and DSM 7.0, install DSM 6.2.3 first, then follow these instructions.
3. Download the DSM 7.0 Virtual DSM Image.
4. Power off your Virtual DSM Instance and take a snapshot of it. Open Virtual Machine Manager, select your vDSM instance, select Action, then Take a Snapshot. Select OK when the next screen appears to take the snapshot. This allows you to rollback to DSM 6.2.3 if you'd like at a later point! Keep in mind that this cannot be done on bare-metal DSM. Snapshots only work on Virtual Machines in Virtual Machine Manager.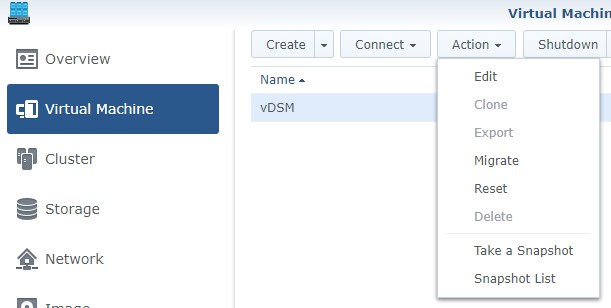 5. Open vDSM and CONFIRM YOU ARE USING THE VIRTUAL DSM IP ADDRESS. I suggest opening the vDSM instance and then closing out of your production NAS instance, so you don't accidentally try and upgrade the wrong system.
6. Select Control Panel, Update & Restore, Manual DSM Update and then find the Virtual DSM update package you downloaded.
7. Read through the terms of service, select the checkbox if you agree, and then select Next.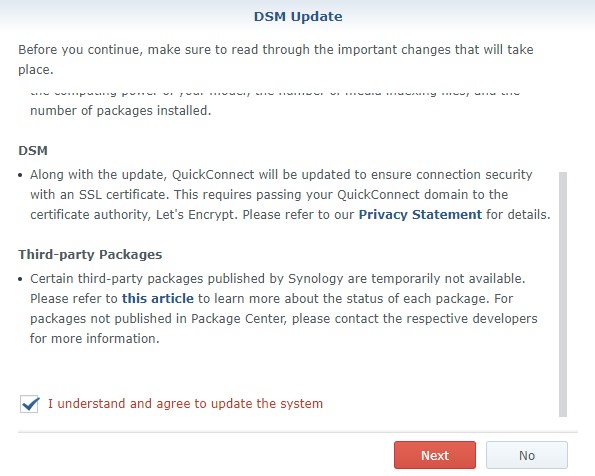 8. If you would like to proceed with installing the DSM 7.0 Beta, select Yes.

9. DSM will now update.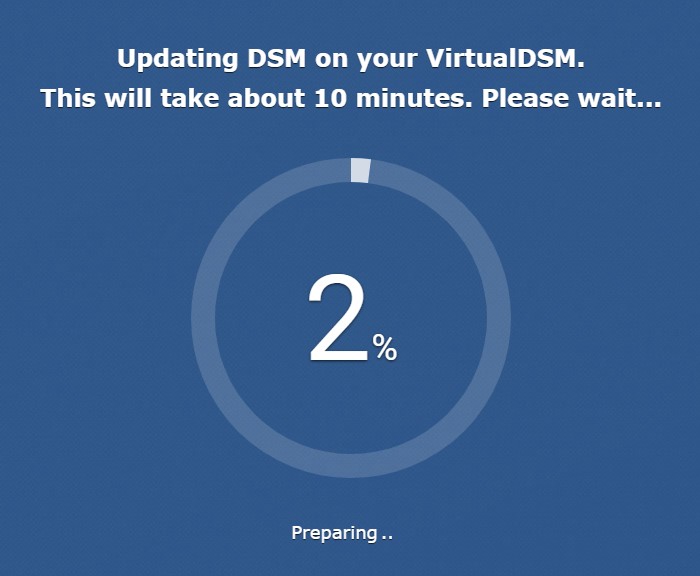 10. If you navigate to the IP address of vDSM after a few minutes, you will see that the update is being applied.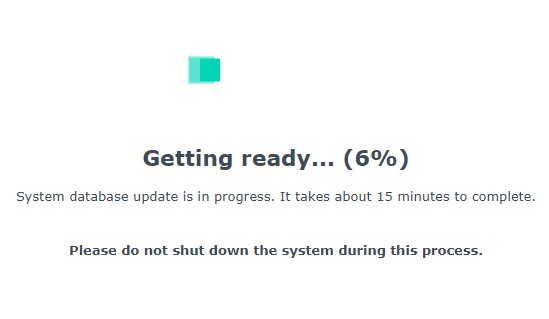 11. DSM 7.0 is now installed! Login to proceed.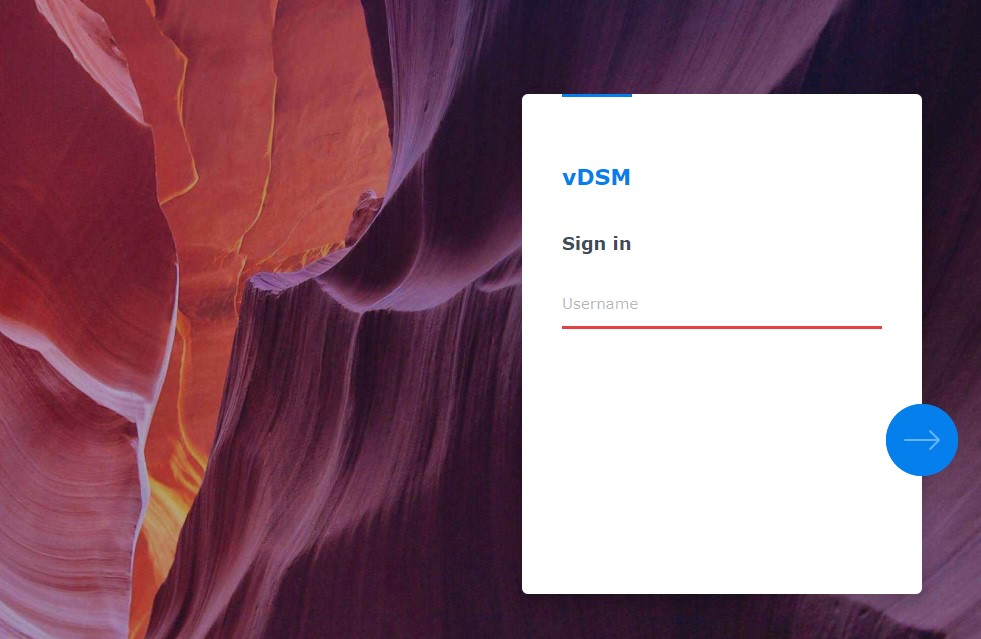 12. You will be brought through a few screens that ask you if you'd like to configure certain settings.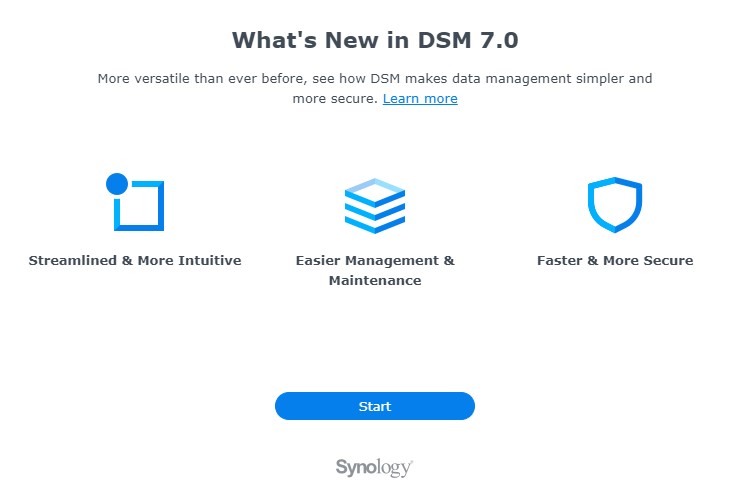 13. Open the Package Center and join the beta for as many applications as you'd like!

2. Roll Back to DSM 6.2.3
Since we took a snapshot before we installed DSM 7.0, it's super easy to roll back to DSM 6.2.3 if you'd like.
1. Shut down the vDSM instance.
2. In Virtual Machine Manager, select Action, then Snapshot List.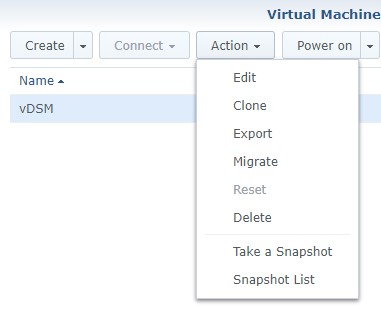 3. On the snapshot we created, select Action, then Restore to this snapshot.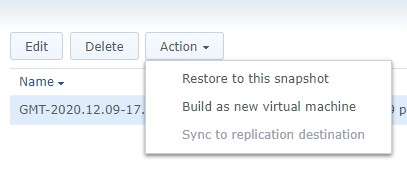 4. Select OK if you'd like to restore from this snapshot.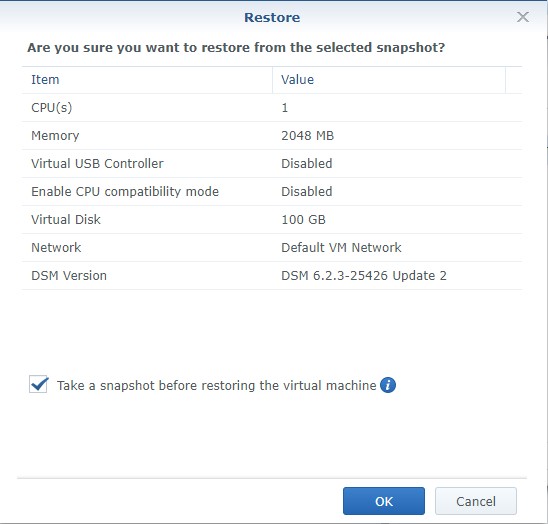 5. Enter your password, select the checkbox, and then Submit. DSM will now restore to DSM 6.2.3. When you power it back on, you'll be on DSM 6.2.3 again! NOTE: Anything you did on DSM 7.0 will be removed permanently. A snapshot will automatically be created of the system in its current state, but you must be aware that DSM 7.0 will now be reverted back to DSM 6.2.3 at the point of the initial snapshot.


3. Conclusion – DSM 7.0 Beta Virtual Machine
I'm biased, but I view this as the best way to test DSM 7.0. It gives you an easy way to roll back to DSM 6.2.3 if you'd like, with the opportunity to test DSM 7.0 in a sandbox environment.
As always, thank you for reading, and if you have any questions, please leave them in the comments!