In this article, we'll look at Bitwarden vs. KeePass to determine the key differences between both password managers.
Using a password manager is one of the biggest changes you can make that will increase your overall security on a personal and professional level. Password managers allow you to remember and maintain one total password and be able to store as many different passwords as you'd like.
This is extremely beneficial when taking into consideration that maintaining one password will allow you to use different passwords for every application or website that you're currently using. This ensures that if one of the applications/websites is breached and hackers get control of the username/password being used, those credentials will not work for anything else.
The easiest way to manage these passwords is by using a password manager. We'll look at the key differences between Bitwarden vs. KeePass below. Before we get there, I want to highlight that Bitwarden and KeePass are both open-source password managers that offer similar overall functionality.
Please remember that your master password should be extremely secure, whether you're using Bitwarden or KeePass.
Bitwarden vs. KeePass
Bitwarden and KeePass are password managers designed to securely store and manage login information. Bitwarden is a cloud-based solution with cross-platform syncing, making it easy to access your passwords from multiple devices. KeePass, an offline and open-source option, offers greater privacy and security but lacks the convenience of built-in syncing. Your choice between the two will depend on your preferences for accessibility, security, and ease of use.
We will look at some differences between Bitwarden vs. KeePass below from an accessibility, user interface, security, and pricing perspective.
Accessibility – Bitwarden vs. KeePass
Bitwarden is a cloud-based password manager, which means that you will be able to access your vault from anywhere with an internet connection. This is beneficial if you plan on using multiple devices and want to access a centrally managed password manager.
KeePass is locally stored, meaning that it's accessible only from the device that's currently hosting the password manager. From an overall functionality perspective, KeePass is limited because of this.
You can synchronize data between multiple devices, but the key word is synchronize – data is duplicated on each device rather than stored centrally.
Bitwarden can be accessed from just about any device, but the downside is that it is stored on a server outside of the user's control. This can be a positive or negative depending on how you'd like the password manager to function, but you can self-host Bitwarden, either officially, or unofficially.
You can view some of the differences between Bitwarden (official) and Vaultwarden (unofficial) here.
User Interface – Bitwarden vs. KeePass
The user interface that Bitwarden provides is significantly more modern than KeePass. To some users, this might be extremely important, but others may find it to be irrelevant as functionality is more important.
Overall, KeePass uses a basic interface that allows you to manage your passwords and group them into various categories.

The Bitwarden interface is more modern but functions extremely similarly. Bitwarden allows you to create folders and group your passwords into those folders. From there, you can create favorites and even store notes, credit cards, or identities.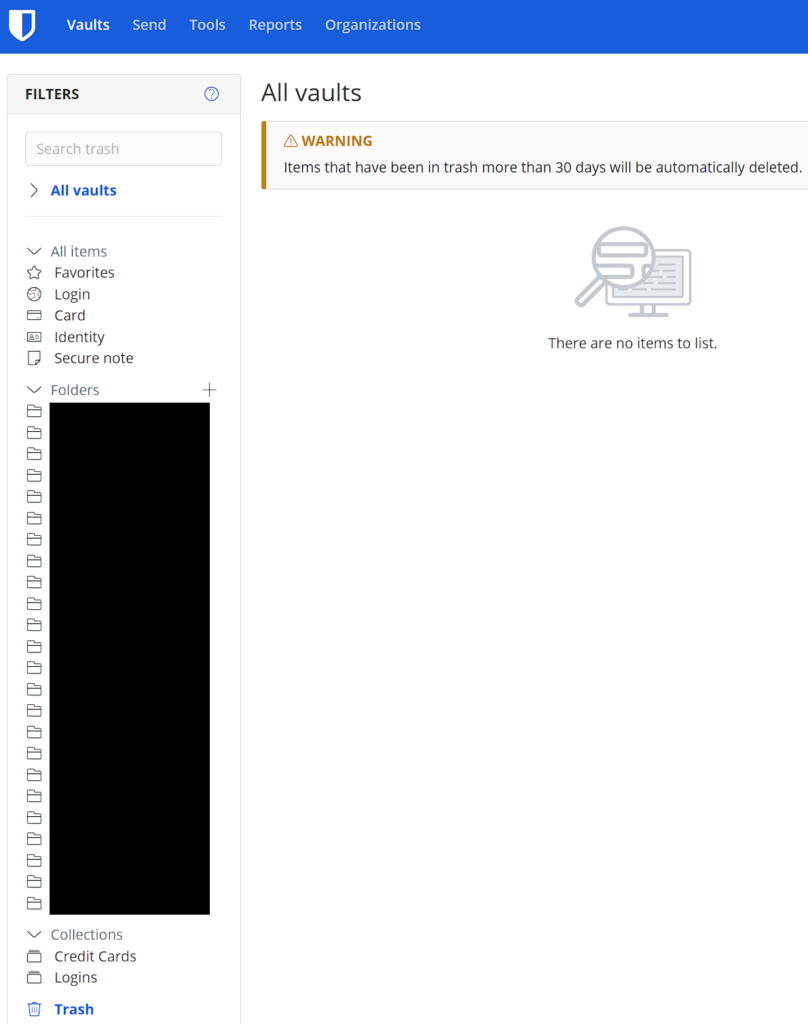 It's important to highlight that from a functionality perspective, they're extremely similar and will both store passwords. The big functionality difference comes from an accessibility standpoint, which as mentioned above, benefits Bitwarden.
Security – Bitwarden vs. KeePass
Bitwarden and KeePass and highly-secure password managers, but Bitwarden is managed on a cloud-based system. You can self-host Bitwarden on various devices, either officially or unofficially,
If you're using the cloud-based version of Bitwarden, it utilizes local encryption to send data to/from the cloud-based servers, and Bitwarden servers are only used for storing encrypted data.
The self-hosted versions of Bitwarden function similarly, but the servers are self-hosted rather than cloud-hosted. Please keep in mind that if you're self-hosting, you're responsible for securing the server.
Pricing – Bitwarden vs. KeePass
Bitwarden and KeePass are both entirely free to use as password managers, but Bitwarden has a premium tier that offers features like Advanced 2FA, Emergency Access (which is a really great feature in my opinion), and more. Bitwarden Premium is extremely reasonably priced as well.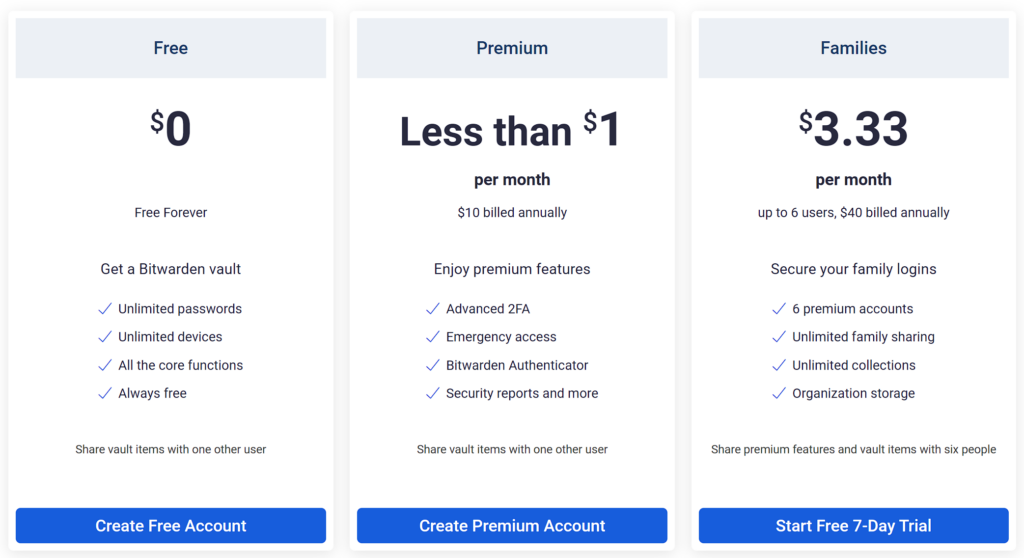 KeePass is entirely free, which is great because you'll get all the functionality without having to pay anything, but it's less feature-filled than Bitwarden is.
Conclusion – Bitwarden vs. KeePass
The differences between Bitwarden and KeePass are fairly significant, but it's important to highlight that while they're in the same category of applications (password managers), they're entirely different products.
Bitwarden is a centrally-stored and managed password manager and KeePass is a locally-stored and managed password manager. While you can get them to function similarly, they're still extremely different since KeePass can only synchronize data back and forth rather than centrally manage them like Bitwarden.
Due to the centrally managed portion of Bitwarden, it's the better product as you can access it from tons of different devices and don't have to worry about syncing data back and forth. Bitwarden will handle the synchronization on its own and it has a bunch of features that make it a better product overall.
With that said, they're both free products, so it doesn't hurt to try them both out and determine which is best based on your requirements!
Thanks for checking out the article on Bitwarden vs. KeePass. If you have any questions on Bitwarden vs. KeePass, please leave them in the comments!